Bachelor of Law (LLB)/UK Degree Transfer Program (Law)
Home ›
LLB ›
Bachelor of Law (LLB)/UK Degree Transfer Program (Law)
Program Description
HELP University offers its own home-grown LLB programme known as the HELP Bachelor of Laws (Honours) which can be completed entirely at HELP University.
The LLB programe is recognised by the Malaysian Legal Profession Qualifying Board. Graduates of HELP's LLB programme are eligible to pursue the Certificate in Legal Practice (CLP).
Graduates who complete the HELP LLB degree will also be granted the opportunity to enrol in selected postgraduate Master's programmes at the ELM Graduate School.
For more information on entry requirements, programme pathways, subjects listing and to get to know the faculty, please download our brochure.
2 hours of lectures and 1 ½ hours of tutorials per subject per week
2 semesters with a minimum of 30 teaching weeks per year
Entry Requirements
Applicants must have one of the following Entry requirements:
2 STPM Grade C passes
2 A-Level passes
5 Bs in Senior Middle 3 (UEC)
Australian Matriculation Programme or equivalent qualification
HELP Foundation in Arts/Foundation in Science
AND
3 SPM/ O-Level credits (including English and Bahasa Melayu)
AND
Intakes
September 2
Last updated Apr 2020
About the School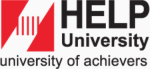 Since 1986 we have grown steadily and sturdily. We have sustained our student number and ensured a robust financial position. We have distinguished ourselves by excelling as a thought leader, an incub ... Read More
Since 1986 we have grown steadily and sturdily. We have sustained our student number and ensured a robust financial position. We have distinguished ourselves by excelling as a thought leader, an incubator of outstanding graduates, a model of selective excellence, and as a community-caring institution. All these years our educational goals have been to prepare students for their first job graduate school, to prepare students for their subsequent career and to prepare students for a fulfilling and productive life. The drives of our vision are our values which are based on "Pride Of Achievement, Sharing Success, The Courage to Be, To Be compassionate, and To be Significant"
Read less