Bar Professional Training Course (BPTC)
Home ›
Course ›
Bar Professional Training Course (BPTC)
Program Description
If your goal is to become a barrister, BPP University's Bar Professional Training Course (BPTC) provides the best possible training. We offer advocacy and conference sessions taught in groups of four, true-to-life mock trials and assessments and the widest range of electives of any provider. In addition, our Careers Service pulls out all the stops to help you secure pupillage.
On successfully completing our BPTC, you will be fully prepared for the demands of life as a barrister – and will be eligible to be called to the Bar of England and Wales (subject to meeting the qualifying session requirement of your Inn of Court).
The legal profession can be demanding and being a barrister is not for everyone. It is recommended that you read this important information issued by the Bar Standards Board if you wish to study for the Bar of England and Wales.
The Bar Professional Training Course (BPTC) is awarded by BPP University.
Key Information
Small group sessions - all practical advocacy and conference sessions are taught in groups of 4
Learn from experienced practitioners with a strong practical focus
Option to type opinion writing and drafting assessments
Widest selection of options to choose from, more than any other provider
Increase your knowledge with introductions to pupillage lectures and court visits, helping you target your applications to the most appropriate chambers for you
Funding available through Scholarships, interest-free payment plans, and Future Finance student loans
Gain vital work experience - by advising real clients through our award-winning Pro Bono Centre
Practice your skills through mock trial and mooting events judged by members of the judiciary and practitioners
True-to-life assessments in advocacy and conference, using professional actors
Value for money - all books and learning materials included in the fee
Proactive careers support to give you the best possible chance of securing pupillage
Convert your BPP University BPTC to a full BPP University Masters degree by completing an additional 30 credits
BPTC Career Guarantee
Our Bar Professional Training Course gives you the best possible training for life as a barrister and we are so confident we are offering a Career Guarantee.
If you don't get pupillage within six months of completing your BPTC you can study another qualification at BPP, worth up to £16,500* including the LPC, for free. Places are limited so for more details on how to apply or to find out more please contact our admissions team.
Closely linked to the profession
The focus of the Bar Professional Training Course is on practical experience and application, with particular emphasis placed on advocacy. Our practitioner tutors are highly experienced – some of whom are still practicing or retain close links with the profession and are also trainers used by the Inns of Court.
Innovative study tools
Learning materials include:
Online demonstrations
Suggested answers to written work
Live mock assessments with professional actors – for advocacy and conference
Digital recordings to allow you to review your performance on a weekly basis
Recorded revision lectures for all Civil and Criminal small group sessions
The White Book and Archbold Criminal Practice
Study dates and assessment
The full-time BPTC runs for a whole academic year – September to June. Alternatively, you can choose to study for the qualification part-time, one weekend per month, over two years.
For the full-time option, classes can be scheduled over three or four days per week, with one day a week reserved for research and preparation. For the part-time option, there is a three-day induction programme followed by one weekend of classroom study per month.
You will be assessed by a combination of written and oral skills examinations throughout the year. For both full-time and part-time students most assessments will take place on weekdays.
At BPP University students have the option to type their opinion writing and drafting assessments as opposed to handwriting them.
Study our LLM Legal Practice (Barristers)
A new programme giving you the essential training you need to become a qualified barrister, we are proud to launch our LLM Legal Practice (Barristers), an integrated practice-focused Masters programme incorporating our highly regarded BPTC and qualifying for postgraduate loan funding of up to £10,280 from the Student Loans Company.
The new programme combines the teachings from our BPTC with a range of new modules. It is a challenging and rewarding programme, enabling you to acquire further knowledge and skills that are of real value in current legal practice.
Free Masters top up
We give you the opportunity to enhance your BPTC and top up your qualification to a full Masters degree at no extra cost. This means, depending on your subject choices, you can either graduate with a BPP University LLM Commercial Legal Practice or LLM Legal Practice (Barristers).
Entry requirements
The BPP University Postgraduate Diploma in Bar Practice (BPTC) entry requirements are:
Qualifying Law Degree or non Law Degree plus CPE/GDL (minimum 2:2)
Membership of an Inn of Court
A pass in the Bar Course Aptitude Test (BCAT)
Fluency in English:
a. a minimum score of 7.5 in each section of the IELTS academic test; or
b. a minimum score of 73 in each part of the Pearson Test of English (academic)
On or before registration, students from non-English speaking countries will be required to produce a certificate issued by one of the above test providers certifying that they have achieved the required scores in each section of the test at the same sitting. Alternatively, students predicted a 2:1 or 1st class degree, who consider that they may exceed the language requirement, may request a Skype interview with one of the Directors of BPTC Programmes or their nominee who may waive the requirement for a certificate on registration.
Certificates issued by a test provider verifying the score achieved by a candidate in one of the above tests must be current and valid by reference to the rules of that test provider as at the date the candidate commences the BPTC.
Subsequent to being admitted to the BPTC, should BPP University consider that a student's language ability is unsatisfactory or there is question as to whether any aspect of it is at the required level, it will require the student to take one of the above language tests at any stage in the course (at the student's cost) and achieve the required score. This right is unrestricted regardless of the students' first language.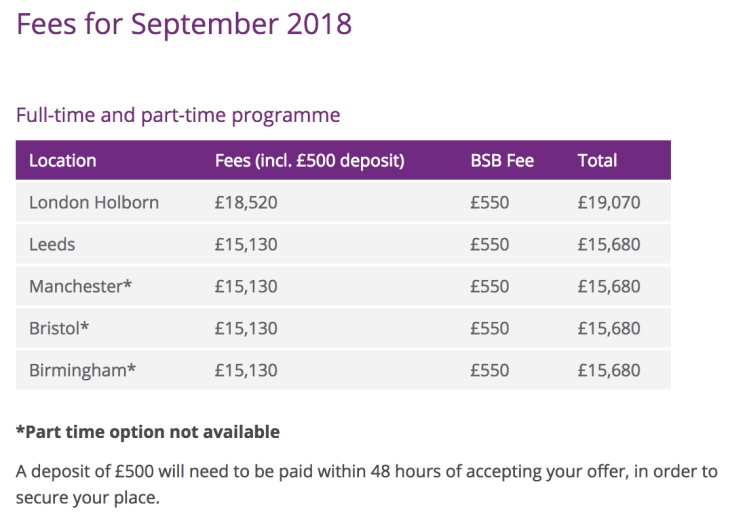 Last updated Apr 2018
About the School

The University's aims are to promote excellence in professional education by being forward-thinking, progressive and innovative, to bridge the gap between education and professional practice, to inspi ... Read More
The University's aims are to promote excellence in professional education by being forward-thinking, progressive and innovative, to bridge the gap between education and professional practice, to inspire and challenge tomorrow's business and professional people in a supportive learning environment.
Read less