International Business Law (LL.B.)
Home ›
LLB ›
International Business Law (LL.B.)
Program Description
The International Business Law course provides in-depth knowledge of international law and professional language skills. Due to the frequent work in an international environment, these are essential for business lawyers. First, you will receive basic training in business law and economics. You can design your own specialization within the framework of elective modules and by choosing a focus. Half of the compulsory elective modules must be completed in English. In addition, indispensable key qualifications are taught right from the start. The practical relevance is established through a 20-week internship abroad and you study for at least three months at a university abroad. This gives you a comprehensive degree for starting your professional life or for a postgraduate master's degree.
| | |
| --- | --- |
| Type of study: | Full time |
| Duration of study: | 7 semesters |
| Lecture language: | Mostly German |
| Graduation: | Bachelor of Laws |
| ECTS: | 210 |
| next start of studies: | each winter semester |
| Application deadline: | 07/15/2021 |
Structure of the Bachelor of Laws course
The 7-semester Bachelor of Laws program is divided into six elements:
Compulsory subjects (105 ECTS)
Elective subjects and key qualifications (30 ECTS, 15 of which in English)
Internship abroad in the 6th semester (30 ECTS)
Selection of a major (15 ECTS)
Study at a foreign university (18 ECTS)
Bachelor thesis in English (12 ECTS)
Bachelor of Laws majors
The students have the opportunity to set an individual focus in their Bachelor of Laws studies, depending on their professional goal. A seminar paper is to be prepared in the main subject, the content of which must be presented in a presentation. This course achievement is accompanied by a professor or a supervisor. The following focus areas are currently available for focus module I :
Operation and Taxes
Restructuring and bankruptcy management
Business and Administration
Personnel management, labor and social law
All students complete specialization module II "International Business and Law" at a partner university abroad.
Bachelor of Laws course of study
20 compulsory subjects form the basis of business law training for the Bachelor of Laws. Each of these modules concludes with an examination. You will therefore receive an overview of your performance level in your studies from the first semester onwards. The key qualifications are used to acquire the language, especially English, and to acquire comprehensive IT skills.
Compulsory subjects Bachelor of Laws:
Basics of law and the application of law
Private Business Law I (BGB AT)
Private Economic Law II (contractual and legal obligations)
Private Business Law III (Property and Credit Security Law)
Private Economic Law IV (Basics of Inheritance and Family Law)
Company law I and II
Public Law I Constitutional, State and European Law
Public Law II Administrative Law, Social Law
Enforcement and Legal Limits
Basics of insolvency law and bankruptcy avoidance
Employment Law
Marketing and Competition Law
Contract drafting, contract and product liability
External accounting and taxation
Corporate tax law
Basics of economics (business administration, economics, accounting)
Special business administration
Key qualifications Bachelor of Laws:
Key IT qualifications (3 modules - application systems, practical applications and presentation techniques)
Key qualifications Language skills in English (3 modules)
Key qualifications Foreign language specialist event
Elective modules Bachelor of Laws, e.g.
Private International Law (PIL)
Anglo-American Law and Legal System
International Sales Law
Austrian School of Economics
Anglo-American Bankruptcy Management
German Labor Law
German Insurance Law
German Occupational Pensions Law
European Labor Law
International Labor Law
US Copyright and Competition Law
International Business
English Legal Skills
Project Management
Crosscultural Communication
Quality management
Gender mainstream
IT management
Leadership and Management
Presentation Techniques
Data bank management
Arbitration
international Competition Law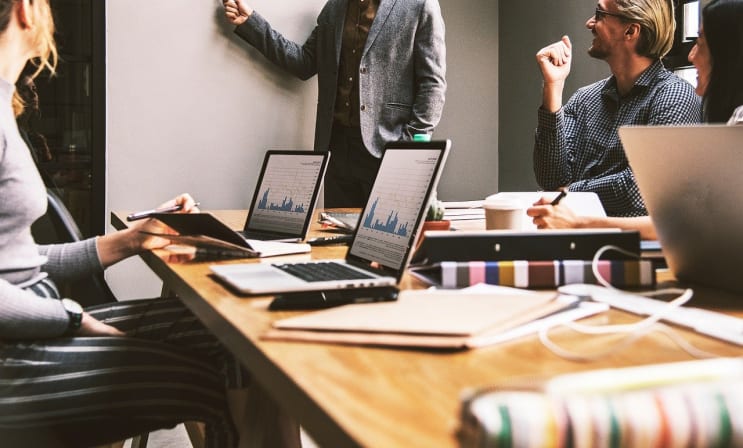 RonaldCandonga / Pixabay
Admission requirements and application
You can start studying for a Bachelor of Laws with a general higher education entrance qualification, subject-specific university entrance qualification or technical college entrance qualification. If you have any questions about other access authorizations, please contact the Central Student Advisory Service.
The Bachelor of Laws course begins in the winter semester. Switching from other business law courses is possible.
You can apply until July 15th .
Career prospects with a Bachelor of Laws
The increasing number of internationally operating companies requires international thinking. That is why business lawyers with in-depth knowledge of national and international business law and business administration are in great demand.
Areas of activity arise in all areas of companies and institutions in the private sector and the public service.
Your career prospects as a graduate of a Bachelor of Laws degree are therefore very diverse. Examples of potential employers include:
international companies and organizations
Associations and associations with an international focus
Consulting firms with international law issues
international law firms
international banking and finance industry
public administrations
international mediation and arbitration
Bankruptcy company
Tax consultancies and auditing companies
Management functions in the international economy
The International Business Law course also prepares you comprehensively for a career abroad. Due to the knowledge you have acquired in German law, the doors to nationally active companies and institutions are of course open to you.
Last updated Nov 2020
About the School

Die Hochschule Schmalkalden ist eine Hochschule für angewandte Wissenschaften in Thüringen. Sie liegt idyllisch am Rande des Thüringer Waldes. Der grüne Campus zählt zweifellos zu einem der schönsten ... Read More
Die Hochschule Schmalkalden ist eine Hochschule für angewandte Wissenschaften in Thüringen. Sie liegt idyllisch am Rande des Thüringer Waldes. Der grüne Campus zählt zweifellos zu einem der schönsten in Thüringen und Deutschland.
Read less