LL.M. In International Business Law (Online)
Home ›
LLM ›
LL.M. In International Business Law (Online)
Program Description
LL.M. + MBA option - an excellent step for your future career!
Our SIBE Online LL.M. program in International Business Law is a 1 year program (+ 4 months for the Master Thesis incl. Master Thesis Defense) with 60 ECTS, covering all the relevant fields of International Business Law (such as Transnational Company Law, M&A, International Competition Law, Intellectual Property, European Law, Contract Law, CISG, Litigation, etc.).
SIBE studies combine theory application, skill development and practical qualification with actual, ongoing real-life challenges in a continuous learning process. The LL.M.'s highly learner-centered online study format promotes an advanced level of interaction between the students and with their professors. As part of their studies, SIBE`s LL.M. students work on individually defined law projects. These are ongoing legal challenges from their professional background and workplace. The projects cover a broad spectrum of legal questions, ranging from data protection over international competition law to the cross-border fight against tax fraud, etc. This advancement of an individual area of expertise is complemented by the LL.M.'s interactive online format. As peers, the students discuss and share their individual project development, challenges, and solutions. This process broadens each student's international legal comprehension beyond the program's theoretical content and the own law project, while the international course composition adds an enriching comparative perspective.
It is 100 % in English and 100 % online. The content, supervision, and support are managed by well-known professors and practitioners. Students are working in transnational groups and are processing real case projects during the study time.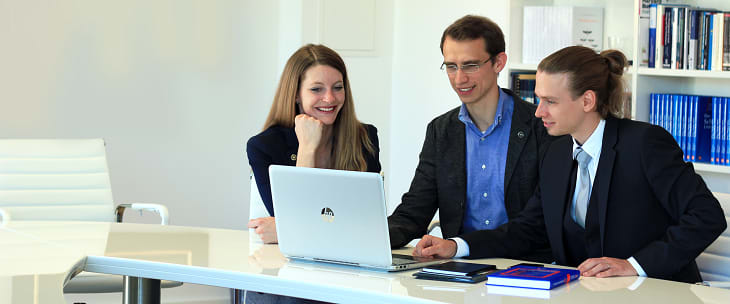 Your benefits at a glance
State recognized Master of Laws (LL.M.) of the Steinbeis University Berlin; Accreditation from FIBAA (Quality Seal)
100 % online
100 % English
100 % flexibility with time & location
Design & supervision by recognized professors and practitioners
Multinational groups support the expansion of international networks
Attractive financing conditions
Additional MBA-option available
The Online LL.M.: an efficient and effective way to promote your career and professional development!
SIBE LL.M. students & alumni
more than 80 % international students / alumni
approx. 37 % female students/alumni
under 5 % drop-outs rate
the average age of our students/alumni is 33 years
more than 94 % of our students/alumni would recommend the LL.M. program to colleagues
Our cooperating partners
Within our Online LL.M. program, we are collaborating with well-known partnering law firms & companies incl. placement service for our participants. Our partners are for example:
CMS Law.Tax
Hammersen
Weiss•Walter•Fischer-Zernin
and others
Degree/Certification
Master of Laws (LL.M.)
State-recognized
Accreditation (FIBAA)
Course of studies: International Business Law
Certificate: Master's degree certificate
Accreditation
Government licensed by the Berlin Senate
FIBAA program accreditation
SIBE's programs frequently surpass FIBAA requirements and have been rewarded with the seal of excellence in "University quality assurance and development"
On May 13th, 2015 SIBE's study programs M.A. in General Management and M.Sc. in International Management received FIBAA's Premium Seal, rating these programs among the top 3% of FIBAA accredited master's programs in Germany
Examination
4 Papers
4 Tests (online)
1 Master Thesis and defense
Credits/Duration
60 ECTS
16 months (12 months study time = 4 modules, 3 months each + 4 months Master Thesis incl. Defense)
Admission Criteria
Law degree or a degree with particular emphasis on the legal dimension
Good English skills (min. B1.2)
Successful passing of SIBE's selection procedure including an English test provided by SIBE
Program fee
Regular fees: 9.800,00 €, payable in 16 monthly installments (= 163,33 € / Credit)
Early bird fees: 8.820,00 €, payable in 16 monthly installments (= 147,00 € / Credit)
What our students/alumni say about the program:
"The LL.M. program in International Business Law surpassed all my expectations. In the beginning, I doubted whether I will manage to combine the studies with my full- time job as a lawyer. But during the first semester, this fear disappeared immediately because of the flexibility and excellent organization of the program. Moreover, I was always well supervised and got helpful advice not only concerning the topic of my papers but also concerning my literature research as well as general questions about the program. Due to this program, I did not only learn a great deal but because of the strong practical orientation of the studies, I had also the opportunity to transfer my new expertise directly into my daily business. Thus, I recommend the LL.M. program at the SIBE to everybody, as it really enhanced my knowledge in the field of the International Business Law and at the same time it made it possible to achieve a prospect of promotion in my career. Thank you very much to the fantastic SIBE team, especially to Dr. Feldbaum, Prof. Arnold and Mrs. Cardone who spread out because of their great support!" Angela Arnold, LL.M. from Wiesbaden who graduated in April 2016.

Contact
For further information please contact Ekaterina Cardone  (cardone@steinbeis-sibe.de)
Last updated May 2019
About the School

In July 2013 The German Rector's Conference registers 392 officially recognized institutions of higher education in Germany, out of which 110 are awarded the right to grant Ph.D. degrees. And while th ... Read More
In July 2013 The German Rector's Conference registers 392 officially recognized institutions of higher education in Germany, out of which 110 are awarded the right to grant Ph.D. degrees. And while the majority of these institutions is public, only 11 are privately owned.
Read less