LL.M. in International and Comparative Business Law
Home ›
LLM ›
LL.M. in International and Comparative Business Law
Read more about this program on the school's website
Program Description
Legal Experts for a Globalized World – Building a Career of the Future
Modern enterprises need profoundly educated, well trained legal experts. Our Master's program focuses on highly engaged and qualified students interested in a thorough global understanding of the law and its mechanisms to coordinate the human interactions in modern societies. According to the concept of a functional comparison of law, the study program centers on important questions of contemporary business, with a focus on German, European, Anglo-American and Chinese Law. Graduates will be optimally prepared for international transactions, leadership roles in intercultural teams, and to face the challenges of today's globalized economy.
International and Comparative Business Law – The Key to Your Success!
Do you want to really understand the mechanisms of transnational legal business? Do you want to lead intercultural teams and global transactions? If so, it's not enough just to understand your own legal order. Our Master's program, consisting of select international students with different legal experiences, will deal with important problems of contemporary business law. Not only from the perspectives of German and European Law, but also from other important legal orders, thereby allowing a profound understanding of the similarities and differences of leading contemporary legal orders.
SRH University Heidelberg – Your Alma Mater
SRH University Heidelberg is located in the heart of one of the most dynamic business regions in Germany. As one of the oldest and largest private universities nationwide, we set standards in the field of education. We impart knowledge that really lets you move ahead – practically, innovatively and creatively. A highly important part of this process is the close cooperation between students and tutors. Our concept for success: We offer new, practical courses of study, individual support and a fast track to the labor market. For our students, this means an optimal start in professional life – with a tight network of connections to enterprises and educational institutions worldwide.
Go International!
SRH University has a distinctly global perspective. We have a tradition of welcoming international students from all over the world. Our international students come from over fifty countries. Students are given an environment to experience different languages and cultures in addition to academic study by keeping class sizes small and with a mix of different nationalities. Our "International Office" frequently organizes cultural events such as International Food and Drink Tastings, local cultural and company visits, language courses, and others.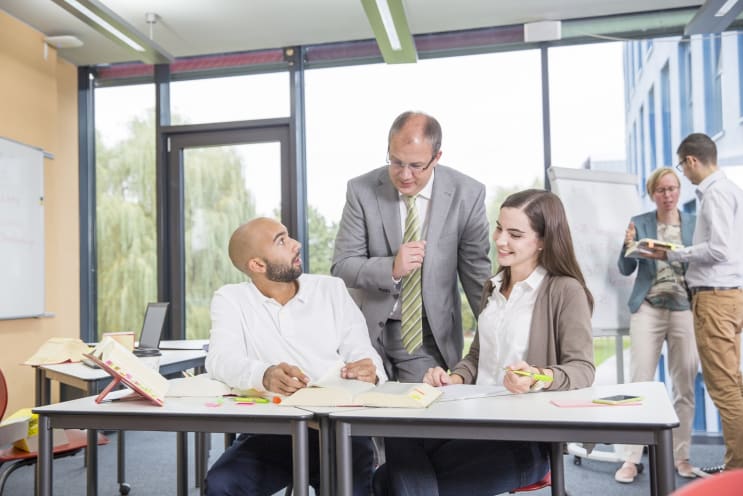 Highlights
Experienced professors and leading experts with practical experience in Business & Law
Problem-focused functional comparison of law under the instruction of native or long-time specialized instructors
Activated learning methods ("CORE"= Competence Oriented Research and Education), unique personal learning atmosphere with highly motivated teachers and small groups
Fully integrated and interculturally well-prepared exchange programs with different cooperation partners (USA, China, Ukraine) and a 10-day study trip, either to the USA or to the People´s Republic of China
Varied, challenging accompanying program, not only focused on law, but also on economics, leadership, and management
Multinational participants and networking partners
All Facts at a Glance
Duration of Study: 12 months (= two terms), 60 ECTS
Start: Annually, starting 1 April
Admission Requirements:

Completion of prior academic studies or a combination of prior academic studies and work experience equivalent to 240 ECTS (= European Credit Transfer System) with a focus on legal, economic or commercial law topics (at least 30 ECTS covered by legal and 30 ECTS covered by economic/commercial subjects)
Proof of English: IELTS 6.5/TOEFL 80 or other proof of English proficiency, successful participation in an individual qualification assessment (application letter + personal selection interview [Skype or on-site])

Final Qualification: International and Comparative Business Law, LL.M. (60 ECTS)
Tuition Fees:

770 EUR per month
One-time registration fee of 750 EUR (1,000 EUR for applicants from countries with visa obligations)
Learning for Life
Teaching and learning at SRH University Heidelberg are inspired by our CORE principle. CORE stands for competence-oriented research and education and facilitates practical skill-building in small, mentored groups with a strong emphasis on applied project work.
Our Visionary Approach to Teaching and Learning
Five-week project assignments: Study programs are organized in five-week blocks of applied study, where – working in a small group – you get to focus intensively on real-world business or research challenges.
Dynamic learning environment: Different study formats include a variety of group work, seminars, role-play and applied assignments. Simultaneously, CORE provides you with the space and equipment that will best support you.
Personal support: While focusing on your work you receive active guidance from your mentors and you will profit from a range of options to help you achieve your personal goals.
Continuous performance feedback: Ongoing performance evaluations at the end of each five-week block ensure a continuous feedback loop and relieve end-of-year exam stress. We use various examination methods to test different facets of skill- and competence building.
Industry insights: Our excellent ties to businesses in the region and beyond help you gain first-hand professional experience and assist your job search after graduation.
Course Overview
Core Subjects: Methodology and Aims of Comparison of Law; Private International Law and International Civil Procedure Law, German & European Law, Law of the United States, Law of the People's Republic of China, German Language & Culture.

10-day study trip, either to the United States of America or to the People's Republic of China
Optional: Further specialization in German & European Law; Certificate "Language and Culture"
Additional Information
Tuition Fees & Ways of Funding
As a private university, we offer you excellent teaching and an optimal study environment. We can advise you on available public funding schemes and scholarships (like DAAD and others).
Business Partners & Universities
Our teaching is interdisciplinary, scientific-based, but at the same time highly practice-oriented. We have a broad network of partner universities as well as business partners. Being part of our Alumni network is an important life-long resource.
Approved Accreditation
In the interest of consumer protection, Germany also ensures that private education providers guarantee a high scientific standard. This is certified through institutional accreditation of private universities by the German Scientific Council. The Scientific Council institutionally reaccredited the SRH University Heidelberg. In addition, SRH University Heidelberg regularly accredits and re-accredits all of the faculty's bachelor and master programs.
Your Path to Our University
The International and Comparative Business Law Master's program starts in April. You can apply directly online.
For the application, the following documents are required
Letter of motivation
Curriculum vitae
Proof of English: IELTS 6.5/TOEFL 80 or other proof of English proficiency
Bachelor's degree (240 ECTS)
In the selection procedure, your academic performance, professional experience and personal, phone or video interviews are taken into account.
Last updated Dec 2019
About the School

As one of the oldest and largest private universities in Germany, we set the standard for education. We equip you with the knowledge you need for your future – hands-on, innovative and creative. For t ... Read More
As one of the oldest and largest private universities in Germany, we set the standard for education. We equip you with the knowledge you need for your future – hands-on, innovative and creative. For this, close collaboration between our students and faculty is of particular importance. Our recipe for success: we offer new, hands-on degree programs, individual supervision and speedy placement in the job market. For our students, this means the best chances for a jumpstart into their career.
Read less