LL.M. in Seven Specialties
Home ›
LLM ›
LL.M. in Seven Specialties
Read more about this program on the school's website
Program Description
When you're ready to take the next step in your law career, a Master of Laws (LL.M.) degree from the IU McKinney School of Law can help.
The LL.M. program has several purposes:
it gives currently practicing U.S. lawyers a place to hone their skills and deepen their knowledge base on a specific subject.
it helps licensed lawyers from other countries get to know American law in preparation for passing the Bar in the United States.
it provides a focused curriculum for legal scholars who are interested in advancing their knowledge in a specific area of law in order to prepare for the S.J.D./Ph.D. in law and an academic career.
Designed to deliver in-depth knowledge in a specific area, McKinney LL.M. applicants are admitted into the LL.M. program before chosing a track choice.
During orientation, newly admitted LL.M. students have the opportunity to talk with faculty, staff, and students about the different program tracks, and then to an academic advisor, who will decide which track best matches each student's career goals and interests. Track choices include:
LL.M. courses are taught by Judges, Justices, and an Attorney General
Our Master of Laws students come from around the world to study with the best our state has to offer. Courses for the LL.M. program have recently been taught by:
Justice Steven David, '82, Indiana Supreme Court
Justice Robert D. Rucker, Indiana Supreme Court
Judge John G. Baker, Indiana Court of Appeals (former Chief Judge)
Greg Zoeller, Indiana Attorney General
As an LL.M. student, you'll complete a 24-credit program. If you attend on a full-time basis, you can complete your degree in a single year. Foreign students, note that to satisfy visa regulations, you must finish within eighteen months.
However, if you are a domestic student, you have up to three academic years to complete the degree requirements, and can take classes on a part-time or evening basis.
The LL.M. program includes:
Area-specific coursework with a wide range of elective options
Externships, clinical courses, or pro bono legal service and optional practical training (OPT) opportunities
A research component and Master's thesis (optional for the American Law for Foreign Lawyers track)
Advanced English as a Second Language (ESL) instruction (the law school will provide a 50% scholarship for these courses, if required)
The opportunity to publish your thesis, if in a thesis track, on the ScholarWorks network at Indiana University. This network makes your research available to lawyers and legal scholars worldwide.
Program Tracks
Although the LL.M. program at McKinney Law offers a structured format, it also gives you the flexibility to choose the electives and hands-on experiences best suited to your goals.
When you arrive on campus you will be able to choose to pursue one of seven program tracks, each designed to satisfy a specific set of needs. Then, within the framework of your chosen program, you can create a curriculum certain to set you on the path to success.
American Law for Foreign Lawyers
If you're a lawyer or law graduate who obtained a degree from a law school outside the United States, this is the track for you. It's designed to help foreign law graduates get to know both the practical and theoretical aspects of American law.
Corporate and Commercial Law
If you are a law school graduate or lawyer from the U.S. or abroad, the IU McKinney Corporate and Commercial Law LL.M. Track will help you to expand your understanding of U.S. and international corporate and commercial law.
Health Law, Policy and Bioethics
If your career goals involve health law, this track will give you an in-depth understanding of the legal, practical, and ethical issues facing the industry. You'll learn how to navigate through the health care field and where those skills are needed within the industry.
Intellectual Property Law
In this track, you'll become adept in copyright, patent, and trademark law. You'll also be able to focus on how this area of law applies to the biotechnology and life science industries.
International and Comparative Law
You can customize the curriculum within this track to focus on a number of areas within international law. Fields you will concentrate on include public international law, international business law, and international trade law.
International Human Rights Law
You will further the teaching and study of Human Rights law by promoting scholarship in International Human Rights and assisting governmental, inter-governmental, and non-governmental organizations on international human rights projects.
World Trade Law
IU McKinney World Trade Law Track will provide you with the background in legal, business, and finance issues necessary for a career in business and trade in international markets.
As a student in the World Trade Law Track, you will interact with professionals at the World Trade Center Indianapolis, along with representatives of Indiana companies doing international business and trade, and individuals from companies throughout the world doing business with Indiana.
Last updated Feb 2020
About the School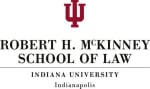 Making the decision about where you pursue a legal education will impact the rest of your life. At McKinney Law we think you will find the best possible mix of theoretical grounding and practical tra ... Read More
Making the decision about where you pursue a legal education will impact the rest of your life. At McKinney Law we think you will find the best possible mix of theoretical grounding and practical training, hard work and fun, in a challenging yet supportive environment.
Read less