LLM in International Commercial Law
Home ›
LLM ›
LLM in International Commercial Law
Read more about this program on the institution's website
Program Description
The new LLM in International Commercial Law gives you specialist knowledge of the regulation of international commerce, and a thorough understanding of the broader social, economic and political contexts which shape modern commercial law and practice.
The course offers a wide range of modules that are contemporary, academically rigorous and skills oriented. You'll gain core knowledge of the framework and regulatory environment of modern commerce whilst having the flexibility to tailor your degree to suit your particular interests and career aspirations by choosing from a range of specialist commercial law modules (and optional modules from the School of Management).
Whatever your choice, your studies will examine key contemporary issues such as developments in information technology, free trade and trade protectionism, Brexit, and sustainability.
Rankings
The University of Bradford is ranked 301-400 in the world for Business and Economics in the 2019 Times Higher Education World University Rankings.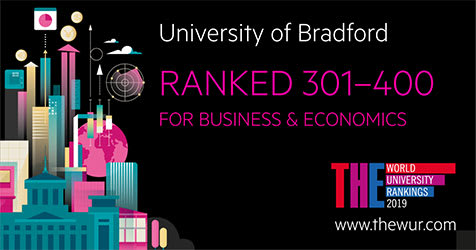 Entry requirements
2:2 or above in any subject, or relevant work experience at a graduate level.
English language requirements
IELTS at 6.5 or equivalent with a minimum of 5.5 in each sub-test.
If you do not meet the IELTS requirement, you can take a University of Bradford pre-sessional English course.
What you will study
An intensive two-week induction at the beginning of the course ensures that all students, including those from non-law and/or international backgrounds, are taught the core concepts and academic skills necessary to achieve the learning outcomes.
Students take 180 credits of modules comprising a taught element of 120 credits, and a 60 credit dissertation.
Students will be required to take 40 credits of core modules covering subjects on Principles of Regulation and Enforcement; and Sustainable Development Law in Business and Society which will explore core themes and provide the necessary background and wider context of the modern environment within which businesses operate and their regulation.
In addition, students will be required to take a total of 60 credits of modules from the following (20 credits each) which will provide specific and in-depth knowledge in specialist aspects of commercial law:
Commercial dispute resolution
International Commercial contracts and e-commerce
International intellectual property law
International Banking and Finance
Trade and investment law
The final 20-credit module of the LLM in International Commercial Law is an elective which can either be chosen from the list above, from a wider pool of postgraduate subject modules from the School of Law such as Business, Human Rights and Environment, Petroleum Law, Climate Change Law, or modules from other departments such as the School of Management.
Please note that for 2020 entry, the module information is subject to change.
Modules
Core
Foundations of Law and Skills (LAW7029-R)
Sustainable Development Law in Contemporary Business & Society (LAW7030-B)
Regulatory Theory and Practice (LAW7035-B)
LLM Dissertation (LAW7032-E)
Option
International Commercial Contracts and E-Commerce (LAW7031-B)
International Trade and Investment Law (LAW7045-B)
International Intellectual Property Law (LAW7008-B)
Commercial Dispute Resolution (LAW7036-B)
International Banking & Finance Law (LAW7037-B)
International Competition Law (LAW7007-B)
Cyberlaw (LAW7039-B)
Elective
Learning and assessment
You will be taught in small groups in an interactive and engaging learning environment.
You will have the opportunity in some modules to be involved in clinical legal education, where you gain practical experience working with real-life cases whilst supported by academics.
The course is also enhanced by visiting guest speakers from all walks of life, including the legal professions, academia, and businesses.
Fees, finance and scholarships
Tuition fee
Home/EU: £7,190 per year
International: £16,840 per year
Scholarships
Every year we award numerous non-repayable scholarships to UK, EU and international students on the basis of academic excellence, personal circumstances or economic hardship. For full details, visit our scholarships website.
Enhancing your employability
The Law Clinic
Our law clinic gives students an opportunity to put theory into practice. Students work in our law clinic advising members of the public in conjunction with the Citizens Advice Bureau and CHAS@StVincent's.
Students are trained to interview and advise members of the public on any aspect of the law. Working as part of a team, students discuss the case and decide whether the client is in need of legal advice. Under the guidance of the Clinic Director, students then prepare advice for their client.
Students also have the opportunity to receive formal training on immigration law, leading to the award of OISC (Office of the Immigration Services Commissioner) Level 1 and 2 qualifications, through collaboration with CHAS@StVincent's. This gives students the opportunity to be involved in giving immigration advice whilst earning recognised qualifications.
Mooting
Our students have the opportunity to get involved in a range of internal and external mooting competitions.
Mooting complements students' legal education and is a great way to learn how to use the law to create persuasive legal arguments. Students have to analyse problems, research the law, prepare written submissions and present their arguments to a trained lawyer or judge.
The competition imitates the procedures followed in appeal courts and is a great chance for students to put their skills and knowledge into practice.
Career support
The University is committed to helping students develop and enhance employability and this is an integral part of many programmes. Specialist support is available throughout the course from Career and Employability Services including help to find part-time work while studying, placements, vacation work and graduate vacancies. Students are encouraged to access this support at an early stage and to use the extensive resources on the Careers website.
Discussing options with specialist advisers helps to clarify plans by exploring options and refining skills of job-hunting. In most of our programmes, there is direct input by Career Development Advisers into the curriculum or through specially arranged workshops.
Career prospects
Our courses are shaped by the School of Law International Advisory Board, made up of leading figures in the judiciary and legal practice, academia and wider industry and society who advise us on the skills and competencies needed in the current and future workplace. This feeds into the design and delivery of our courses, ensuring our students gain knowledge and experience that is not only academically rigorous but valued by employers.
Study support
You will be allocated a personal tutor - someone with whom you will be able to talk about any academic or personal concerns. Staff responsible for the administration of the LLM are available to help you with day-to-day queries about the programme.
We are a small, dedicated and friendly Law School, allowing our academic and support staff to get to know students personally, and offer individual support and teaching. We make sure that your time with us is as rewarding as possible, and do everything we can to help you reach your potential.
The Law Library has dedicated support from our Law Librarian, who will be able to provide you with guidance on the use of legal databases, OSCOLA referencing or finding a book in the library.
As well as offering access to key textbooks and other materials in hard copy, the law library also subscribes to three of the key legal databases:
Westlaw
Lexis Library
Hein Online
You'll, therefore, have 24-hour electronic access, on and off-campus, to the majority of the material you require to successfully complete your programme. Where tutors require you to read material which is not as readily available, it will be made available to you through Blackboard. You are encouraged to also consult other collections as there is interesting and useful material on all of the topics studied available from a variety of disciplines, and you will, therefore, be introduced to the library as a whole rather than just specific collections as part of this programme.
The Library includes self-issue and self-return facilities, photocopiers and printers, areas for silent study and social learning, and wireless access throughout the building. There is an information desk, a special computer laptop bar, and areas for social learning in the upper Atrium on Level 1. The building incorporates full disability access.
LLM students also have access to social spaces including Postgraduate Common Room and the Weir room.
Research
Our core research theme is law as a driver for change in a global society. This reflects the expertise of our academic staff, and our commitment to contemporary and practically relevant research which is global in context and oriented towards ensuring sustainable and resilient societies, including within the context of international businesses.
Last updated Mar 2020
About the School
At the University of Bradford, you'll benefit from - and be a part of – teaching and research that harnesses technology for the good of society. You'll learn from academic and industry experts who are ... Read More
At the University of Bradford, you'll benefit from - and be a part of – teaching and research that harnesses technology for the good of society. You'll learn from academic and industry experts who are shaping the future of their sectors in world-class facilities. We've invested millions of pounds in high-tech learning environments, such as our motion capture studio and new School of Management facilities. During your time with us, you can become the very best version of yourself. The University is a place where you can expand your mind and make lifelong friends; where you can grow, learn, experience. Where you can belong, and where we support you every step of the way.
Read less