LSAT Test Preparation Course
Read more about this program on the institution's website
Program Description
Are you preparing for the Law School Admission Test (LSAT)?
Sign up to take a free diagnostic test to determine your strengths and weaknesses.
Score your best! Speak with our education and career advisors to learn more about our online test preparation courses, university admissions, and career advisory.
All test preparation courses include:
Video lessons
Online study materials
Multiple-choice practice questions banks
Live online classes led by top instructors
Mock exams
Mobile App access in many cases
Introduction
For nearly a decade, Grace Education is a digital distance learning center institute for students and professionals combining admission consulting and entrance exam preparation for college, business, and graduate school with employment placement services, career management advisory, and leadership development training to cultivate lifelong academic progression and ongoing professional evolution.
Since its founding in 2012, Grace Education has collaborated with excellent LSAT instructors to design digital, one-on-one, personalized test preparation courses to enhance confidence, reinforce test-taking strategies, and improve your scores.
Score your best on the LSAT with Grace
In preparation for admission to American and European law school programs, applicants are required to demonstrate certain critical reading, verbal reasoning, and analytical thinking measured by the standardized test: LSAT.
In addition to our LSAT test preparation coaching, many of our students also take advantage of Grace Education college, business, or graduate admissions coaches to help with their university applications and gain entrance to highly selective American, British, and European colleges and universities.
With a 97% student admission success rate since its founding in 2012, Grace Education has helped hundreds of applicants gain admission to prestigious law programs at Harvard, Yale, Stanford, Columbia, and the University of Pennsylvania to name a few.
Furthermore, many of these students go on to lead great careers with the help of Grace Education Career and Leadership Institute coaches.
Pedagogy
Grace constructs its success with tried and tested teaching methods
A student's strengths and weaknesses are determined by a diagnostic test. His or her learning style is also determined by a learning style test. After analysis, students are paired with a test preparation coach with whom they will organize a tailor-made and individual course to best prepare them to score their very best on the examination.
Example-based instruction, practice-test-taking strategies, test simulations, and review are the core of Grace Education's teaching methods.
Students select the day and time of their personal one-on-one courses.
Flexible payment plans are available.
We are one of the few firms to consider the geographic cost of living in our pricing to make our programs and services accessible to all students regardless of where they live.
Testimonials
"I thought that the Grace Education LSAT Course was great. I had a great instructor who knew what she was doing and was able to teach the methodology efficiently. The course materials were great because they provided a vast amount of questions and practice tests that were all taken from prior LSATs. Through the lessons and reviewing on my own using the online study materials, I was able to increase my score 18 points from the very first practice test to my actual LSAT. This course was recommended to me by a number of friends and I was so glad that I listened to them. Since taking the course, I have recommended it to a number of people who have now signed up for the class, and I am positive that they will not be disappointed in the course either." Kimberly, USA
"Grace Education LSAT test preparation course works. Whether you are looking for a big score increase or just trying to get those last few points to hit your ideal score, the Grace Education course will cover you. The breadth and depth of materials are key. However, the unique organization of real exam questions, online resources, and effective instructors is what really makes this course work. If you want to work through every question ever published, they're all in the materials. But if you need to balance schoolwork and this course, Grace Education's lessons and homework materials make all the time you spend the most effective. The best part is that Grace Education's approach to ALL the questions is consistent, so when you target one question type that is tripping you up, your proficiency in all the question types increases. I've heard stories of instructors at other test preparation companies "learning the test along with the students" (the horror!), but Grace Education's instructors are not only top-notch, but they have gone through intensive training, and have access to extensive, ongoing teaching resources." Sunil, USA
Last updated Oct 2020
About the School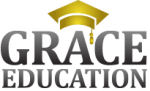 Admissions consulting, university entrance exam preparation, employment placement services, career management & leadership training for the long run.
Admissions consulting, university entrance exam preparation, employment placement services, career management & leadership training for the long run.
Read less