Level 5 Diploma in Education and Training
Home ›
LLM ›
Level 5 Diploma in Education and Training
Program Description
They will provide knowledge that underpins the ability to work as an effective manager in the education sector. They combine both theoretical and practical knowledge in the education profession and will develop and enhance knowledge and skills in the areas of leading change, effective performance, planning and accountability, development and team leadership. Learners will be able to work in a variety of roles within education administration and/or management.
This qualifications is approved and regulated by government regulated body Ofqual (Office of Qualifications and Examinations Regulation) to ensure consistent course quality.
OfQual Qualification Number : 603/4247/X
QLTS
In order to gain QTLS status you must achieve Level 5 Diploma in Education and training and then seek QTLS status through the Society for Education and Training.
QTLS is a professional status achieved by self-assessment of your teaching experience and practice along with achievement of the OTHM Level 5 (or above) diploma at 120 credits.
Why is this course right for you ?
Transform your career: Enrol today and make a life changing decision, get necessary knowledge to transform your career.
Move up in your career: With our fully accredited course, you can move up to the next level in your organisation with ease.
Upgrade your skills : Add value to your current educational profile and achieve skill sets to compete in your job role.
Enhance your credibility: the qualification is fully accredited and recognised and adds value to your educational profile.
Progression opportunities : As this qualification is approved and regulated, learners are eligible to progress to Level 6 Diploma or Bachelor's degree top-up programme on completion at an attractive fee plan.
Cost effective: Typically, British qualification starts from GBP £3000 per annum, but with LSIB, you enjoy savings of up to 60% on your educational investment.
Key features
100% Online: Study online with the UK's leading online course provider.
Global programme: Study anytime, anywhere using your laptop, phone or a tablet.
Study material: Comprehensive study material / e-library support / study links available at no additional cost.
Easy Payment plans: Interest free monthly, quarterly and half yearly payment plans available for all courses.
Extensive Tutor Support : Qualifications delivered by LSIB comes with complete tutor support via live chat and email. Support via whatsapp call is provided on case to case basis.
Assessments: Assessment is done through written assignments and/ or dissertation project.
Description
EquivalencesThis qualifications at RQF Level 5 represent practical knowledge, skills, capabilities and competences that are assessed in academic terms as being equivalent to Foundation Degrees, Higher National Diploma (HND) and Year 2 of a three-year UK Bachelor's degree.Qualification structureThe Level 5 Diploma in Education and Training consists of 6 mandatory units for a combined total of 120 credits.
Mandatory units
Theories and Principles of Education and Training (20 credits)
Lifelong Learning: Principles and Issues (20 credits)
Resource Management in Education (20 credits)
Develop and Evaluate Operational Plans for Own Area of Responsibility (20 credits)
Provide Leadership and Direction for Own Area of Responsibility (20 credits)
Professional Practice and Development in Education and Training (20 credits)
Requirements
The Learners must possess:
Relevant NQF/QCF/RQF Level 4 Award/Diploma or at the level of GCE/GCSE or any equivalent qualification
or
Work experience of 2 years or more in case you do not hold any formal qualification
and
Learner must be 18 years or older at the beginning of the course
Who is this course for ?
This qualification is suitable for individuals who:
Want the opportunity to explore underpinning theories, frameworks and research into effective teaching and learning alongside developing practical teaching skills;
Are currently teaching and want to have their experience and practice accredited;
Are not currently teaching but can meet the minimum teaching practice requirement of 100 hours;
Are able to undertake a large qualification, lasting one to two years;
Have the potential to study at this level, which has the same level of demand as that of a degree course;
Want a wide choice of optional units to reflect the context in which they teach;
Want a qualification recognised as equivalent to the Certificate of Education qualifications;
Are willing to undertake an initial assessment of their skills in English, mathematics and ICT, record their development needs and follow an action plan to address them where necessary.
Can evidence Level 3 skills in English or mathematics if they are taking any of the specialist units in teaching English (literacy and/or ESOL) or mathematics (numeracy).
Career path
Upon successful completion of learners will be eligible to gain entry into the final year of Bachelor's degree or pursue a Level 6 Diploma in Education and Management.
As this qualification is approved and regulated by Ofqual, UK (Office of the Qualifications and Examinations Regulation), learners are eligible to gain direct entry into BA Top Up degree at many universities in the UK and overseas.
Please get in touch with the admissions team for more information. Visit www.LSIB.co.uk and chat with the admissions agents for more information.
London School of International Business

UK Provider Reference Number (UKPRN) : 10062390
Website - www.LSIB.co.uk
Last updated October 2019
About the School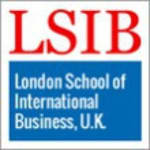 Studying with LSIB gives you the opportunity to develop your knowledge of business and information technology and help you grow your key competencies – so you gain the skills to tackle work projects ... Read More
Studying with LSIB gives you the opportunity to develop your knowledge of business and information technology and help you grow your key competencies – so you gain the skills to tackle work projects and situations more effectively.
Read less