Master of Laws (LL.M.) in Intellectual Property
Home ›
LLM ›
Master of Laws (LL.M.) in Intellectual Property
Program Description
American University Washington College of Law (AUWCL) offers a unique Master of Laws degree (LL.M.) in Intellectual Property through one of the world's leading centers for the study of intellectual property and information law. Applications are now being accepted for Information Justice Fellowships – a merit scholarship, internship and mentoring program for outstanding candidates.
Outstanding applicants may qualify for the Information Justice Fellowship, which includes tuition support for up to half of the required credits, as well as mentoring and the opportunity to organize an event relevant to one's area of specialization.
LL.M. Program Features
Credit Requirements
AUWCL offers an ABA-approved LL.M. degree in Intellectual property law. Award of the degree requires:
·At least 24 credit hours with a grade point average of 2.0 or better.
·12 credits in approved intellectual property and information law courses, including at least one Foundational IP course (Copyright, Patent, Trademark, Trade Secrets, IP in Cyberspace).
·During their first semester, graduates of non-common law programs are required to take American Legal Institutions (2 credits) and Legal Research and Writing (2 credits).These courses introduce students to the U.S. legal system and U.S. legal writing.
Candidates normally complete the degree as a full-time student in one calendar year (including summer).
Candidates studying under an F1 or J1 visa must maintain full-time enrollment (8 credits) during the normal academic year (fall and spring semesters) and can pursue 6 or 7 credits in the summer.
Research or Practical Skills Focus
LL.M. candidates must elect either a Practical Skills Track or Research Track for their degree. Research candidates are required to take the IP Writing Seminar offered in the Fall of each year and complete a 30-page thesis on a topic of their choosing. Practical Skills candidates complete an externship and must take at least one writing seminar, which may include the IP Writing Seminar or, for foreign-trained lawyers from non-common law backgrounds -- Legal Research & Writing (2 credits; offered Fall or Spring).
Summer Sessions in Washington and Geneva
Each summer, American University Washington College of Law's renowned intellectual property program offers a broad selection of evening, weekend and short courses in intellectual property law. The courses are designed to deliver training on cutting edge topics in a format to meet the needs of busy professionals and law students.
Summer Session courses are available to law students from any ABA accredited school for transferrable academic credit. Practicing lawyers may take courses for a Certificate of Completion or Continuing Legal Education (CLE) credit. Up to four (4) summer credits may be transferred toward a future LL.M. degree at American University Washington College of Law.
Learn more about the program and apply here: https://www.wcl.american.edu/academics/areas/ip-law/intellectual-property-summer-sessions/
Why American University is right for you
American University Washington College of Law is perennially recognized as among the top places in the world to study intellectual property law. The program builds on AUWCL's other major strengths, including international law, public interest law, and clinical legal education.
Internationally Renowned Faculty
Washington College of Law has one of the largest intellectual property faculties in the world. The full-time faculty teaches each of the core subjects of Patent, Copyright, Trademark, Trade Secrets, and Cyberlaw. Students also learn from over a dozen senior practitioners from the World Intellectual Property Organization, World Trade Organization and leading global intellectual property law firms and visiting scholars.
Extensive Curriculum
AUWCL's intellectual property curriculum is one of the largest in the country – with over 30 intellectual property and related courses. Classes are offered day and night, all year long – giving students the flexibility to tailor their schedule to other commitments.
Dynamic Programs
AUWCL is home to the path-breaking Program on Information Justice and Intellectual Property(PIJIP), an academic and research center promoting the public interest in intellectual property policy debates around the world. PIJIP hosts the U.S. affiliate of Creative Commons engages in public impact research projects, brings together scholars and practitioners for public events and seminars, and publishes the infojustice.org news and analysis blog.
Supervised Externships
Among the many advantages of studying law in Washington, D.C. is the opportunity to integrate practical experience with the academic study of the law. AUWCL students regularly work with over 100 government and non-profit IP Externship Employers.
Location, Location, Location
AUWCL's new Tenley Campus affords students the opportunity to study in a modern state-of-the-art 8 ½ acre campus, situated in a bustling, historic neighborhood with easy metro access to downtown Washington D.C. -- a global center of intellectual property policymaking and legal practice.
Global Alumni Network and Employment Opportunities
Students gain access to one of the largest IP alumni networks in the world. AUWCL alumni are partners in nearly all of the top 50 IP firms in the DC area, include dozens of IP specialist judges – including the Chief Judge of the Federal Circuit Court of Appeals -- and serve in IP-focused careers in scores of Federal administrative agencies.
Active Student Organizations
AUWCL law students run myriad organizations focusing on intellectual property and related topics.
·The Intellectual Property Law Society keeps students informed and connected through a weekly digest of activities and employment announcements and organizes events and speakers series;
·The IP Brief gives students the opportunity to edit and publish both short and full-length articles, including as a first year or LL.M. student;
·The Communications Law Society, Sports & Entertainment Law Society, and Fashion Law Society provide opportunities for students to join specialized networks in those fields;
·The Moot Court Honor Society supports participation in the Giles Southerland Rich Memorial and Saul Lefkowitz moot court competitions;
·The American University Law Review publishes an annual volume reviewing the jurisprudence of the U.S. Court of Appeals for the Federal Circuit;
·The International Law Review publishes an annual focus issue on international intellectual property law;
·The Journal of Gender, Social Policy & the Law is an annual co-sponsor of the IP-Gender Symposium.
Engaged Career and Academic Counseling
Over a dozen AUWCL faculty members participate in the Intellectual Property, Communications, Media and Sports Law Faculty Practice Group, which links students to faculty, alumni, and upper-level student career mentors.
Last updated Mar 2018
About the School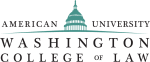 Designed for international and domestic law graduates, our LL.M. programs feature flexible curricula that incorporate a rich array of specialized law courses and seminars and experiential learning opp ... Read More
Designed for international and domestic law graduates, our LL.M. programs feature flexible curricula that incorporate a rich array of specialized law courses and seminars and experiential learning opportunities. As a student, you will be supported by a law school community that is uniquely collaborative, including faculty who are passionate about education and a global network of LL.M. alumni. The LL.M. programs at AUWCL incorporate a rich array of courses, experiential learning opportunities, and special events that offer valuable opportunities for students to interact with leading lawyers, policymakers, business leaders, and diplomats.
Read less