Master of Laws in International Trade Law - UNCITRAL
Home ›
LLM ›
Master of Laws in International Trade Law - UNCITRAL
Program Description
For 22 years the International Training Centre of the ILO, the University of Turin, the University Institute of European Studies (IUSE) in collaboration with other world-class universities has been offering a shortened version of this programme under the name "International Trade Law Post-Graduate Course".

In recognition of increasing demand for higher levels of specialization in the fields of contract law and international trade and overlapping with the decision to establish the Turin School of Development as a unique mechanism for delivery of joint UN-academic programmes, it was decided to expand and upgrade the programme's learning contents to a Level 1 European Master as of the Academic Year 2010-2011. />This LL.M. Programme is now designed for more comprehensive coverage of the topics related to the globalisation of supply chains, the vast expansion in international and regional trade in goods and services as well as the accompanying technological developments like e-commerce and digital signatures which have all contributed to an increasing complexity in the legal framework governing contractual transactions in a technologically interconnected global market.
The master programme is an intensive course of one full year duration, of which only 18 weeks require full classroom attendance. The programme is composed of three parts. Upon successful completion and fulfillment of Part I (distance learning), Part II (face-to-face) and Part III (submission of the final version of the research paper) participants will be awarded the 1st level master degree from the University of Turin. The face-to-face training approach is flexible, with active training methods based on lectures, seminars, performance-oriented exercises, case studies. The learning methods include a series of ad hoc case studies to provide skills towards problem-solving on topics covered during lectures. Role plays and moot court are used to promote active participation and to assist students in acquiring useful skills to operate successfully in their future working environment.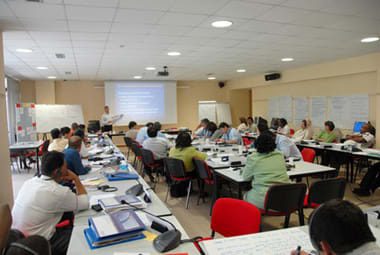 From the UN side, UNCITRAL endorsed the new Master and accepted the status of a full partner as of 2010. Other international organizations and renowned universities have also expanded their role in this new Master and delegated distinguished faculty members to join the Scientific Committee and to participate in programme delivery like WTO, UNIDROIT, the University of Fribourg and the Universidad Autonoma de Madrid (Spain).

In order to comprehensively cover both the legal concepts and the applied practice sides of the various types of contracts in international trade, the LL.M. Programme has assembled a team of highly qualified law professors and experienced law practitioners in order to impart to the participants not only the legal knowledge for negotiating trade and related contractual issues but also the necessary competencies for analysing complex situations and disputes in contracts and trade agreements.
Objectives

The learning objectives of the LL.M. programme are:
advancing legal knowledge in the field of international trade law and transnational contract law and related provisions of public and private international law
enhancing competencies for comparative legal analysis i.e. from a civil law, common law and Islamic law perspectives
providing fundamental tools and competencies needed to deal with the complex reality of international commercial transactions from a European and an international perspective and in particular with respect to Contracts' Drafting, Interpretation and Management of International Commercial Contracts, International Dispute Resolution, Arbitration and Moot Court



Language, Venue and entry requirements

The LL.M. programme is entirely delivered in English. Knowledge of the English language is a pre-requisite and must be proven in the application form with supporting documents.

The residential phase of the programme will be held on the campus of the ITC/ILO in Turin, Italy. Class attendance is compulsory. Applicants must have successfully completed a first level university degree of at least 3 years' duration, either in law, economics, political sciences, business administration or equivalent.

The validity of non-Italian degrees must be recognized under Italian law and regulations.The LL.M. programme is entirely delivered in English. Knowledge of the English language is a pre-requisite and must be proven in the application form with supporting documents.

Fees and Application

The tuition fee is set at € 8,000.

The fee includes:

programme development and management
teaching equipment, training materials, and documentation
use of training facilities and support services

Board, lodging, travel expenses, transports and personal expenses for the period in Turin are not included in the cost of participation.

Scholarships




A limited number of partial fellowships may become available from sponsors in order to facilitate the participation of deserving candidates from developing and transition countries who are unable to meet the full tuition fees.
Last updated Apr 2018