1. It's home to some of the country's top universities and law schools
California may be best known for its sunshine, beaches and movie stars, but it's got plenty of other things going for it. One of the state's most impressive assets is its higher education system. California's colleges and universities consistently are at the top of rankings of best states for higher education. 
In awarding California the fourth place spot in its 2019 ranking of top states for higher education, SmartAsset raves, "California schools offer the highest return on investment. The Golden State also ranks in the top 10 for average net price and 15th for in-state attendance rate."
2. It's centrally located for many areas of practice
From entertainment to technology, if you're thinking of practicing law in one of these exciting, in-demand fields, there's no better place for a front-row view of the action than California. But these are far from the only thriving industries in dynamic California. According to Livability, "If California was its own country, it would have the sixth largest economy in the world (larger than countries like Mexico, Spain, Canada, South Korea and Saudi Arabia)." It adds that some of the top industries in California are agriculture, education, finance, utilities, government, healthcare, manufacturing, technology, and transportation. Each of these industries requires trained legal professionals -- and law studies in California is the perfect way into them.
3. It's a diverse and welcoming state
"The American narrative is a story of diversity. Our history tells of many different peoples coming together from every walk of life to form what is today a complex tapestry of backgrounds," says WalletHub. California embodies this ethos perfectly, being, according to WorldAtlas, the most diverse state in America. 
In addition to making California an interesting, vibrant place to study and live, it also makes its classrooms an exceptional place to learn. A growing body of research attests to the value of diversity in higher education, for everything from stimulating innovation to preparing students for the future workforce. This is especially applicable in law school. "Access to justice is essential for a democratic society, and diversity in the legal profession increases the likelihood of access for people from an increasingly diverse population. Law school diversity enables individuals from a wide range of backgrounds to add their perspectives to the greater legal community. [...] Race or ethnicity, LGBTQ status, and disability are just some of the backgrounds that contribute to the diversity important in law school and the legal profession. Diversity of age, geographic region, socioeconomic status, and nationality also add to a richer experience in the law school classroom for all students," the Law School Admissions Council (LSAC) suggests. 
It was also the US' first "sanctuary state", meaning its local and state agencies are prohibited by law from cooperating with ICE (U.S. Immigrations and Customs Enforcement). If you are interested in working on legal issues surrounding this controversial yet vital field, studying law in California offers a unique vantage point. 
4. Certain regions are surprisingly affordable
While areas of California like Beverly Hills and San Francisco are known for their exceedingly high costs of living, some of its cities are surprisingly affordable, even in desirable Orange County. 
Take Irvine, for example. Awarding the city 15th place on its list of the 100 best places to live, Livability enthuses, "The city provides its residents with more than 16,000 acres of parks and open space, and Irvine is among the greenest cities in America thanks to a 20-year plan designed to increase the use of renewable energy and reduce greenhouse gas emissions. Residents have access to three top medical facilities, and Irvine has one of the lowest crime rates in the nation, according to FBI statistics." An average daily temperature of 71 degrees, a prosperous economy, and higher education resources round out the list of reasons why Irvine is a perennial pick by Livability. 
Where to study
The University of California, Irvine School of Law's Master of Laws (LL.M.) program offers many benefits for students looking to receive a high-quality legal education in the US. 
For starters, there's its world-class faculty which was recently ranked 12th in the country in terms of scholarly impact. Then there's its top-notch reputation. UCI Law is ranked 23rd overall by US News & World Report, with especially high ratings for clinical training, intellectual property law, and diversity. 
The vast majority of UCI Law students, meanwhile, rate their UCI educational experience as "excellent" and report high rates of engagement and satisfaction. Rounding out UCI Law's appeal are small class sizes; carefully designed curriculum with a learning-by-doing pedagogy; and an extraordinary Southern California location home to many prestigious international law firms, prominent public interest organizations, large companies, and small entrepreneurial startups across many sectors.
One such student is Su Yeon Chun, a patent attorney from South Korea who has worked for several years with multinational corporations, specializing on intellectual property (IP) matters including trademark, design, and copyright. She had the "invaluable opportunity" of being seconded to a big entertainment and movie company in Burbank, California, one of her firm's clients. Her ten years in practice, especially this secondment on the West Coast, fuelled the desire to "gain an in-depth knowledge of the US legal system and underlying philosophies"...which led her to UCI Law. 

"I decided to pursue an LL.M. program in the US, and my previous experience of staying in California led me to come to California again," she says. "California is one of the most liberal states which values diversity, and also known as a world leader in the intellectual property field, including patent, trademark, copyright, licensing, technology, and entertainment. Of course, California is a wonderful place to experience the nature and beauty of US landscapes as well. It has only been three months since I started studying at UCI Law, but I am convinced that adding academic knowledge and greater understanding of the U.S. legal system to my past practical experiences would enable me to provide more sophisticated, higher level of legal services to international clients based on my broadened and fresh perspective of the IP world." 
If you are thinking of continuing on to get your J.D., UCI Law's LL.M. to J.D. Transfer Option puts that within reach as well -- all without taking the LSAT. Top-performing Master of Laws students from UCI Law are able to apply to transfer from the LL.M. program to the UCI Law Juris Doctor (J.D.) program. And the great thing about California is that it is one of just four US states which allow students to take the bar exam and practice law without attending law school. In fact, the UCI Law LL.M. curriculum qualifies students to sit the bar exam not just in California State but New York State too. 
Studying law in California promises many advantages when it comes to kickstarting a legal career in the US, and UCI Law's LL.M. is designed to help students turn their dreams into reality. Learn more about taking a giant step toward a law career in the US by applying to UCI Law's LL.M. program.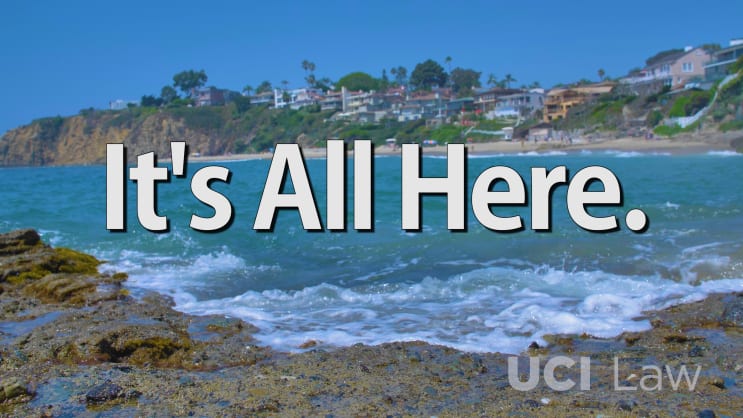 Article written in association with University of California, Irvine.