TEST: Go Global MBA Scholarship 2023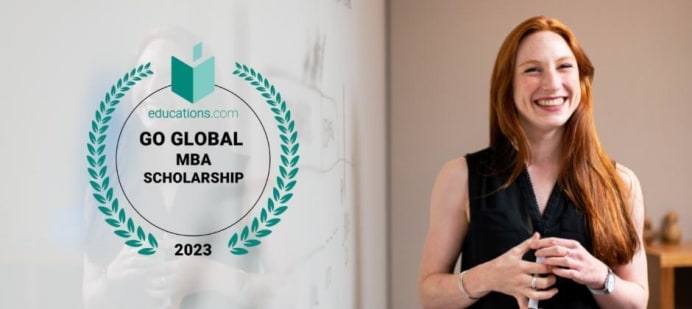 Apply for our $7,000 scholarship for MBA studies and begin your professional journey abroad
At educations.com, we believe that studying abroad helps shape the next generation of globally-minded leaders in business – and we want more of you to have that opportunity.
However, we know that finding MBA scholarships isn't easy. That's why our MBA scholarship program offers up to $7,000 to help cover your tuition fees and get you one step closer to the next stage of your career.
The Go Global scholarship for MBA studies will be awarded from the Fall 2023 semester onwards up to a value of $7,000, and is open to students from any country who will be studying for an MBA degree abroad at a university or business school.
The application period ends on the 24th of April, 2023 at 12:00 CEST
Need help finding an MBA program? Browse 700+ MBA degrees all over the world.
---
---
Have a look at the past winner and finalists of our Go Global MBA Scholarship to learn more about what made us select them. It'll help you prepare your application!
Looking for more MBA scholarships? Take a look at our Scholarship Directory.
Eligibility
To apply for this scholarship for MBA studies:
You must have applied (or will apply) for an MBA program that begins in Fall 2023.
You should have no more than 5 years of relevant professional work experience.
You must meet the entry requirements of your chosen university or business school, including:

Holding a valid undergraduate (Bachelor's) degree
Meeting the language requirements for the program

You must hold or be eligible to apply for a relevant study visa (if applicable).
You must be studying abroad in a country:

Where you do not hold citizenship
That you do not currently reside in (unless currently studying abroad)
Looking for an online MBA scholarship? You're in the right place! The MBA program can be studied via distance learning from an institute located in a country of which you are not a citizen or permanent resident.
Our ideal candidate
Are you the next globally-minded leader in business?
Our MBA scholarships aim to help students take the next step in their careers and study an MBA abroad. Your choice to study abroad already demonstrates your dream of working across borders and communities. Here's what else we're looking for in a candidate:
Globally-minded leader in business aiming for an international career
At the beginning of your career in business management
Self-starter with entrepreneurial spirit
Self-motivated and inspired to make your mark on industry
A strong interest in making the world more sustainable
Need more information about MBA programs? Check out our guide on studying an MBA program.
Key dates for Go Global MBA Scholarship 2023
Applications open:
25 April 2022
Applications close:
24 April 2023, 12:00 CEST
Finalists notified:
15-26 May 2023
Winner announced:
5-9 June 2023
Scholarship paid out:
Fall 2023
Application requirements
Wondering how to apply for the Go Global MBA Scholarship?
To be considered, you must submit your completed application by 24th April 2023 at 12:00 CEST.
The application consists of:
Filling out a short form
Submitting an elevator pitch
Submitting a short essay (400-500 words) on the question: How will an MBA program help you grow as a globally-minded leader and achieve your career goals?
Please note, applications must be submitted in English. Applications in other languages will not be considered. Similarly, applications including a CV, academic records, certifications, or documents other than the application essay will not be evaluated.
If selected as a finalist, you may be asked to provide:
Proof of acceptance into the university in the form of a copy of your acceptance letter
Proof of undergraduate qualification in the form of a copy of your transcript
Proof of identity in the form of a copy of your passport
Proof of professional work experience in the form of your CV/resume
Copies of documents must be scanned in color. Please have these documents on-hand should you be selected as a finalist. You will have 7 days from the time you receive notification of being selected as a finalist to supply us with this documentation.
If selected as the winner, you must:
Respond within 3 days of receiving the offer of scholarship to confirm acceptance
View the full Terms & Conditions here.
Ready to submit your application?
FAQs about this scholarship
How many MBA scholarships will be awarded?
There is only one scholarship per round available which will be awarded to one individual.
When will I find out if I have won the scholarship?
The MBA scholarship program finalists will be contacted between 15th and 26th May 2023, and the winner will be announced on our website and social media channels between 5th and 9th June 2023.
Can I edit my application after I submit it?
Yes, you will be able to log in as many times as you like using the email you originally submitted the application with up until the application close date – 24th April 2023 at 12:00 CEST. At this time, the application form will be closed and all submissions will be considered final.
Please note: Once you have submitted your MBA scholarship essay, you will be unable to delete and re-upload revised versions through the Google Form. So please make sure to only submit your application once your essay is complete. If you submit the wrong essay or would like to make changes, please email us [email protected] the email address associated with your application with the updated version of your essay.
What do I have to submit with my application?
In the initial MBA scholarship application, all you need to do is fill in the form along with a short elevator pitch and an essay on the topic: How will an MBA program help you grow as a globally-minded leader and achieve your career goals?
If you are selected as a finalist, you will be asked to supply further documentation to further prove your eligibility.
What should I include in my application essay?
We want you to tell us what made you choose an MBA program, and particularly, how it will help you grow as a globally-minded leader. Tell us what's important to you, where you see your future, and how your studies supported by MBA funding will help you get there as well as how it will help you grow and develop.
If you want to get more practical tips on how to improve your MBA scholarship application and essay, have a look at our article on on scholarship tips and advice.
I want to upload a new version of my essay. How do I do this?
Please [email protected] from the email address associated with your application with the updated version of your essay and we will make a note on your application.
Can I get reimbursed if I have already paid my tuition fees for the Fall 2023 semester?
Unfortunately, we're unable to reimburse tuition fees that have already been paid. The MBA funding can only be used towards upcoming tuition fees and is paid directly to your university.
Can this scholarship be used towards other expenses?
The MBA funding can only be used towards your tuition fees. No living costs, accommodation rental, travel expenses and semester fees can be covered.
Can I email or post you my application?
No, all applications must be submitted via the official online form (link below). If you email or post us your application, we will not include it for consideration.
Is this MBA scholarship for degrees taught in English only?
No, this MBA scholarship program is open to MBA degrees taught in any language. However, we require the application and essay to be submitted in English only. Applications and essays submitted in other languages will not be evaluated.
I have already started studying my MBA degree. Am I still eligible?
If you start your MBA degree studies before or after Fall 2023, unfortunately you are not eligible.
I am applying to study my degree online. Am I eligible for this scholarship?
Yes, an online MBA scholarship is possible. Tuition fees for online MBA programs are eligible for funding provided that the degree is delivered by a higher education institute located in a country of which you are not a citizen or permanent resident. For example; a French citizen or resident could study an online program provided by a Spanish school.
Where can I find more MBA scholarships?
Access more opportunities for MBA scholarships as well as scholarships for other degree types in our regularly updated Scholarship Directory.
Start your application here!
[QuoteRequestFormId:202]
Find a program in these categories