What is the Value of an LLM Degree?
What is an LLM degree?
LLM stands for Legum Magister, which is Latin for 'Master of Laws'. In other words, an LLM degree is an advanced, postgraduate program that allows you to study a particular legal field in-depth. You can study for a specialized LLM degree in criminal litigation, environmental law, commerce and technology law, or more niche areas, such as Islamic law or intellectual property laws. Courses last between 12-24 months and are taught via a mix of seminars, lectures, practical workshops, and case studies. Assessments will normally be in the form of written coursework assignments, culminating in a final dissertation requiring you to research and write a thesis on a legal topic of your choice.
Who should study for an LLM degree?
An LLM degree is an ideal option for anyone with a specific legal career path in mind. It will give you the tools, knowledge, and experience you need when applying for positions at legal firms that focus on your particular area of interest. An LLM degree shows recruiters you are serious about your chosen profession and willing to put in the extra work to achieve your desired outcomes.
The degree can be extremely beneficial to professionals outside the legal industry. For example, a finance officer at a large multinational can gain a deeper understanding of their role by studying for an LLM in tax or corporate law. Similarly, an LLM in intellectual property law could prevent a tech innovator from slipping into the many pitfalls that come along with launching their first venture.
The benefits of an LLM degree
Studying for an LLM degree is an investment in your future. It can lead to more exciting and interesting career opportunities. Many private law firms fast-track candidates with LLM degrees, meaning you'll have additional responsibilities and a big headstart in your career. And your career options are not limited to the legal profession. LLM graduates can work in law enforcement, big tech, social care, finance, media, and education. Others have found fulfilling roles at the transnational organizations working towards making the world a better place for everyone, such as the United Nations or UNICEF.
Politics is another viable option. Around 40% of the current US Congress attended law school. Bill and Hillary Clinton met at Yale Law school, while Barack Obama worked as a civil rights attorney and legal academic before turning his attention to politics.
Then there are the financial rewards. In the US, government new hires with an LLM earn higher salaries than those without the same qualification. It's not unusual for LLM graduates in the private sector to start on salaries above $70,000, and that can quickly rise to over six figures. First-year associates with an LLM are typically paid at the level of second-year associates, who have a median salary of $130,000, according to a National Association for Law Placement report.
A survey from the National Association for Law Placement reports a median salary of $130,000 for second-year associates with an LLM degree.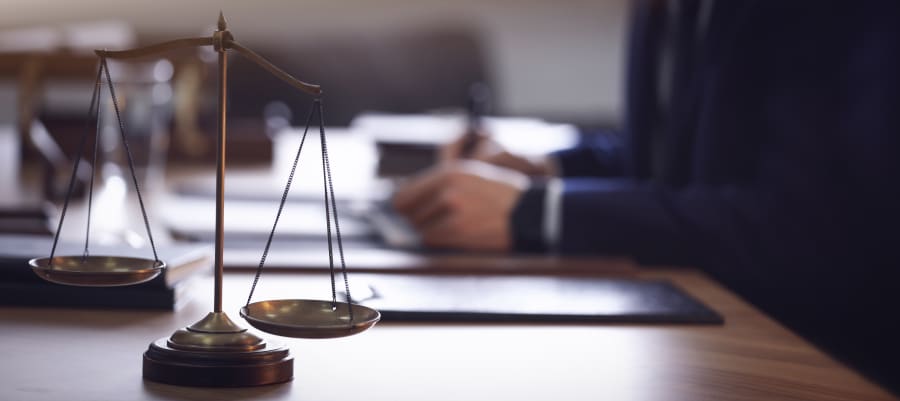 An LLM degree at the University of New Hampshire
The Franklin Pierce School of Law at the University of New Hampshire is the perfect place to start your journey toward that dream legal career. Ranked among the top 100 law schools in the USA, the Franklin Pierce School of Law offers LLM programs in Intellectual Property (#4 ranked in the USA), International Criminal Law & Justice, and Commerce & Technology.
Programs are taught by world-class academics and practitioners with years of experience in their respective fields. Teaching methods include classroom-based lectures and seminars for developing your theoretical knowledge. You'll also sharpen those crucial soft skills essential for navigating professional environments. And there will be plenty of chances to gain practical experience through case study assignments and legal clinics where you can apply the knowledge you've learned to real-world situations.
You'll also benefit from guest lectures led by experts at the pinnacle of their industries. Last year, the school's LLM Intellectual Property department held its first-ever immersive classroom experience in Silicon Valley. The class was taught by Micky Minhas, former vice president and chief patent counsel for Microsoft. Top executives from Apple, Google, and Samsung also presented on issues related to patent and copywriting law.
The Franklin Pierce School of Law is committed to making sure every LLM student has the chance to succeed during and after their course. The academic success program runs workshops and individual sessions to help students navigate assignments, while the school's bar prep service provides individualized support on how to prepare for the bar exam. The school's alumni are now practicing law and leading policy at Fortune 500 companies, global law firms, and national governments. Samsung, Microsoft, and Pepsi are just a few big names who have hired Franklin Pierce graduates.
Danielle Soucie graduated with an LLM in Intellectual Property (IP) from Franklin Pierce in 2020 and now works as Senior Consultant at Deloitte US. "I loved all my classes," says Danielle. "I loved learning about the different issues that occur and practicing my negotiation and writing skills. Studying at New Hampshire will open your mind and prepare you to be a lawyer in the 21st century."
Sommer Blackman graduated from Franklin Pierce in the same year. Recalling her time studying IP law, she says despite having five years experience in practicing law, immersing herself in her studies at Franklin Pierce was essential to her pursuing a career in Entertainment & IP law. The experience improved her writing and critical thinking skills, increased the breadth of her knowledge, and highlighted her ability to multitask and become a leader.
Meanwhile, Vinicius Silva Damasceno, a UNH graduate from Brazil now working in the USA as a Law Clerk at Celedon Law, says, "Being in a different culture and learning the law from a different system is very exciting and can be an excellent experience. This cultural exchange is truly valuable and gave me the opportunity to learn legal subjects through a different angle."
To help you learn more about life as a Franklin Pierce LLM student, the UNH Franklin Pierce School of Law is running a free webinar this October. Hosted by Sarah Dorner, Director of Graduate and International Admissions, this free informational webinar starts at 8:00 AM ET on Thursday, October 14th. Sarah will be joined by Rebecca Purdom, Associate Dean of Academic Affairs, who will share how an LLM from Franklin Pierce can help launch your legal career, and a current LLM student who will speak to his personal decision to pursue an LLM. Sarah will also go into more detail about the three LLM programs offered at Franklin Pierce and will be happy to take any questions you have.
To help you learn more about the value of an LLM and life as a Franklin Pierce LLM student, book your spot on this free webinar before places fill up by following this registration link.
Article written in association with the University of New Hampshire Franklin Pierce School of Law.

Ashley Murphy
After graduating with a degree in English literature and creative writing, Ashley worked as a bartender, insurance broker, and teacher. He became a full-time freelance writer in 2016. He lives and writes in Manchester, England.