LLM in
LL.M., D.J.S., & PH.D., in Law & Policy Professional Certificates
Cambridge Graduate University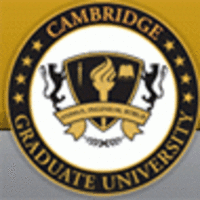 Scholarships
Explore scholarship opportunities to help fund your studies
Introduction
LL.M., D.J.S., & PH.D., in Law & Policy Professional Certificates
Cambridge Graduate University's College of Law, Policy & Global Studies has an unmatched academic program, offering law and policy Masters and Doctoral degrees – the LL.M., Masters in Laws & Policy, D.J.S. (Doctorate in Juridical Science), and Ph.D. in Law & Policy – and several joint degrees with other Cambridge Graduate University Colleges, including the College of Business, and the College of Regulatory Science & Public Health. The faculty has a range and depth of expertise in fields of legal scholarship and practice, which allows the college to offer a robust global immersion curriculum. These include a wide range of praxis leadership based projects and courses that give students the opportunity to put classroom learning to work solving real-world problems. The academic program is also notable for the world's only global campus format, offering immersion experiences in each region of the globe to gain rare insights in international and comparative law. Students generally have multidisciplinary interests and explore those interests in the global immersion intensives with faculty that share and mentor their experiences, scholarship, and curriculum throughout the program.
Law is deeply implicated in our economic, political, and social worlds. And so the pursuit of any goal of significance invariably involves an engagement with law. The curriculum is designed for students who seek to understand how law and policy can be harnessed for global impact, or who wish to pursue careers as global leaders and change agents.
The College of Law, Policy & Global Studies includes not only those courses and clinics that are obviously relevant, but also courses and activities that may seem less obviously linked to law and policy, but are critical to building relevant understanding, skills, and strategies. Learning about the past, analyzing relationships among law, society, culture, stakeholders, the economy, globalization, business, and social institutions, dissecting powerful institutions, and developing skills and capacities – including data and policy analysis skills – are all important steps; so is understanding particular problem areas and related legal materials.
The College of Law, Policy & Global Studies is designed to encourage students to concentrate on a broad and integrated analysis of variables creating global impact. The College views the variables as deeply related to each other. The College's intent is to enable students to develop a rich understanding of the promises and limitations inherent in the various modes and areas of work that are of interest to the student.
Curriculum topics and modules include international trade and business, pharmaceutical and medical device regulation, social change, litigation, organizational leadership, institutional reform, judicial management, electoral politics, legal regimes, constitutional law, racial justice, securities, finance, venture law, media & internet, social welfare, religious freedom, labor, economic development, criminal justice, civil justice, land use, property, environment, economic justice, health care, public health, poverty, security, energy, film and media production, IT, IP, immigration, human rights, bio ethics, biotechnology, patent law, and more.
LL.M., Master of Laws & Policy Program
The Master of Laws & Policy program is a 24-month program designed to matriculate into the D.J.S., or Ph.D. in Law & Policy, and provides students who already have excellent legal training and experience – may have served as practicing lawyers, judges, diplomats, community leaders. – with broad latitude to design a course of study that will give them an expanded understanding of law, policy, legal theory and application.