LLM in
Master of Laws Commercial Law with international aspects
Diploma University of Applied Sciences
Scholarships
Explore scholarship opportunities to help fund your studies
Introduction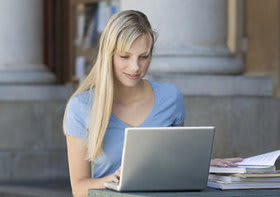 The master's degree course old = "Business law with international aspects is designed for students who already have a first academic degree.
The master distance learning is designed as a "blended learning" concept and forms a coordinated combination of the study elements: "Editing the study books", "Interactive study in the virtual lecture hall" (from home), some on-site lectures at one of the nationwide study centers as well taking exams in a study center close to home.
The Master's degree old = "Business law can therefore be completed as a part-time distance learning course with a standard period of study of 5 semesters , regardless of location.
The academic master's degree at DIPLOMA enables graduates to pursue a doctorate.
Master's degree in International Alt = "Business Law
In the distance learning course, the students acquire practical and theoretical knowledge in the field of international alt = "business law in the basic modules. Based on different case constellations, a differentiated discussion takes place based on scientific foundations and research on international alt =" business law. Furthermore, depending on the student's choice, two of the major areas of business security, corporate tax law and contract drafting in an international context will deepen your technical knowledge.
The students acquire the necessary specialist knowledge to anticipate the need for action, to assess the risks of entrepreneurial decisions based on legal issues, and to develop concrete solutions and to support them in their implementation.
Internationales alt = "Commercial law in practice
After successfully completing an academic master's degree, there are particular professional areas of application in service companies that are active in cross-border and international legal consulting. Due to the global economic network, the demand for business lawyers is also high in internationally operating companies.
Normal period
Distance learning: 5 semesters / 120 ECTS
The actual study period can be extended free of charge for up to 4 semesters over the standard period of study.
baseline
With sufficient number of participants in the winter semester (October) and summer semester (April).
accreditation
Accreditation of the degree program by the accreditation agency FIBAA.
tuition fee
Distance learning: € 317.00 / month (total € 10,495.00 plus one-off examination fee of € 985.00)
admission requirements
Passed a bachelor's or diploma examination at DIPLOMA Hochschule or another university or university of applied sciences (especially in the fields of economics or law) or an at least equivalent foreign degree in the same or a related subject with a standard period of study of at least six semesters.
Applicants whose final grade of their first professional qualification is "sufficient" cannot take part in the master's degree. Applicants with a "satisfactory" degree must demonstrate in a placement interview that they are able to successfully complete this degree.
degrees
Master of Laws (LL.M.) - Graduates receive a master's certificate and certificate as well as a so-called "Diploma Supplement" written in English and a "Transcript of Records" (overview of grades), which she / he internationally as Identify academics with a master's degree. After the Bologna decisions, a master's degree holder has met the requirements for a doctorate.
Major fields of study
Corporate tax law
The focus on corporate tax law is part of the master's degree course old = "Business Law with International Aspects (LL.M.). The aim of the module is to answer corporate tax law issues and to implement their practical handling in companies :
VAT law
Conversion Tax Act
Business tax
Corporation Tax Act
Taxation of international companies
Taxation of shareholders
Business security
The focus on corporate tax law is part of the master's degree course old = "Business Law with International Aspects (LL.M.). The module emphasizes that it is not only in the run-up to crisis situations that business security measures, including succession arrangements, have to be initiated and implemented. Rather, the various Design options from the point of view of long-term continuity are shown and weighed up against one another, using the company sale, the relocation, the restructuring in the event of insolvency and the design options of the succession arrangements to examine exemplary business security options.
Below is an overview of the contents:
Company sales contracts / relocation
European bankruptcy regulations and restructuring in the event of bankruptcy
Organization of succession planning / inheritance tax and companies
Drafting contracts in an international context
The elective focus on contract design in an international context is part of the master's degree course old = "Business Law with International Aspects (LL.M.) with the following content:
International business contracts
Typical contractual clauses
Typical types of international business contracts
Similar Courses
LLB (Hons) Law with Business with Foundation Year

Guildford, United Kingdom
Manchester, United Kingdom

+ 4 more

LLB (Hons) Law with International Business

Guildford, United Kingdom
Manchester, United Kingdom

+ 2 more

LLM International Commercial and Economic Law