LLB in
Degree in Law + Master
ISDE Law Business School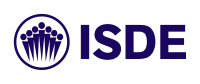 Introduction
ISDE method
Guaranteed internships, on a mandatory basis, from the first year.
Stays in Cambridge and New York.
Considered one of the best legal training centers.
Programs designed by the best firms in the market.
ISDE involves top-tier firms, future employers
ISDE is a pioneer in actively involving firms, future employers of its students, in the content design and delivery of its programs. These contents are linked to the real needs of the profession, governed by market demands in each of its specialties.
Customer requirement method
You will work from the method of customer demand, through which you will be trained to resolve conflicts with real cases from the first year. You will replicate the day to day of an office, legal advisory or financial entity, being subject to deadlines and the same work parameters.
We act like a headhunter
The firms, through their professionals, who make up the ISDE faculty, ensure that the transmission of the content that is taught to you is done in the appropriate way so that, if you become part of their staff, you do it as a professional Able to detect the needs and requirements of the firm's clients. It would be the equivalent of an inhouse training but taught at ISDE. Thus, ISDE acts as a necessary agent within this headhunting process. The firms that share our program aim to attract talent among students. We are the quarry of the offices and entities, which take your training in their hands.
Internships from first year
The practices will always be carried out from the first year. Depending on the composition of the studies and the programs you choose.