LLM in
International Master in Sports Law and Management ISDE - IUSPORT and KPMG
ISDE Law Business School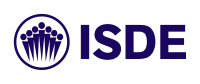 Introduction
The International Master in Sports Law and Management ISDE - IUSPORT and KPMG, taught online by ISDE, is aimed primarily at professionals whose activity is directly or indirectly linked to the world of sport who want to develop and enhance their knowledge in the field of sports law international.
The objective is to provide the student with all the practical and conceptual instruments and mechanisms necessary to successfully articulate legal relationships with sports organizations of a public and private nature.
International projection
At ISDE we break barriers by training international professionals by combining the cross-disciplinary disciplines of international law with the knowledge and skills necessary for business success.
International stays
ISDE has different agreements with prestigious universities around the world. Thus, programs defined by two main approaches are always designed: internationality and excellence.
Tech & Digital: Adaptive Method
ISDE's Adaptive Method fuses the physical and digital worlds, making them one. In this way, and thanks to its methodology and the tools and platforms it uses, it enhances the learning experience, regardless of how students attend classes.
In this way, two objectives are met:
The programs are tailored to each student and not the students to the program.
Immersion in the way of working of the best professional firms is reinforced.
Curriculum
Structure of the Master
It combines the necessary subjects for a legal professional (civil, labor, administrative, sports law, contract law, negotiation techniques, marketing, sponsorship, insurance and merchandising, intellectual property law, human resources, television and federative rights) with the development of the necessary skills in any sports manager.
Taught online, the program is completed with a face-to-face meeting at the end of the program. This enables the consolidation of relationships between teachers and students, favoring the establishment of a solid network of professional contacts.
International Field of Sports Law
Sports Activity and Penalty Law
Sports Coaching
Doping in Sport
Sports Commercial Law
Economic Crisis of Sports Entities
Telecommunications Law in Sports
Tax Law in Sports
Specialties of the criminal repression of unsportsmanlike conduct
Professional leagues
Dispute Resolution Mechanisms
Dispute resolution mechanisms at the federal level. Reference to Football: UEFA, FIFA, RFEF.
Motor Law
Civil Liability in Sport
Special Labor Relations of Professional Athletes. RD 1006.
Football Regulations: FIFA
Practicum. Dispute Resolution in the Transfer of Jury Members. Doctrinal Analysis
Sports Marketing
Communication: Developing effective relationships
E-sports
Career Opportunities
After obtaining this master's degree, you will be able to practice in a wide range of professional opportunities, in organizations such as:
National or international sports intermediary
Representative agencies
Law firms, audits and the Big Four
Federations and private and public institutions
National or international sports entities
Entertainment industry in sports
E-Sports and videogames
Organization and management of sporting events