LLM in
LLM in European and International Business Law
Karoli Gaspar University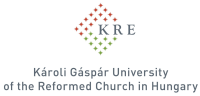 Introduction
A one-year master-level accredited program in English with full-time daily course offerings for lawyers in the heart of Central-Europe by the Faculty of Law of the Károli Gáspár University of the Reformed Church in Hungary, Budapest.

Duration: September 2023 - June 2024
Teaching venue: Budapest, Hungary (EU)
Language of instruction: English
Program Structure
This is a full-time program of 60 ECTS credits.
The program offers 24 different courses focusing on various aspects of European and international business law. About half of all courses are optional with different varieties of specialization. Lecturers are renowned professionals of their field, both as academics and practitioners from law firms, judiciary, and top-level international or domestic legal organizations. Visiting lecturers from a number of other countries are also incorporated into the program. The program is concluded with the defense of the master thesis and the completion of the final exam.
Besides classroom lectures and seminars, the possibility for valuable insights into relevant legal practice represents the other form of learning benefits for participants. In order to obtain professional experience and create a network of contacts, participants in the LLM program will have the opportunity to engage in unpaid internships and take part in the operation of law firms with extensive European and international practice in legal matters.
In addition, students also have the opportunity to participate in the Annual Willem C. Vis International Commercial Arbitration Moot competition in Vienna.
Contact Information
Postal address: Károli Gáspár University of the Reformed Church in Hungary, Faculty of Law, 1042 Budapest, Viola utca 2-4., Hungary
Telephone number: +-36-1-370-86-01
Scholarships and Funding
Stipendium Hungaricum scholarship
Applicants of certain countries may have the possibility to apply for the Stipendium Hungaricum Scholarship Programme financed by the Hungarian state. The scholarship covers the entire tuition fee, budget for accommodation (or contribution to accommodation costs), and medical insurance in Hungary.
This study program is available with Stipendium Hungaricum scholarship for the citizens of the following countries: Albania, Algeria, Argentine, Cambodia, Cape Verde, Georgia, India, Indonesia, Iran, Iraq, Jordan, Kosovo, Kurdistan Regional Government/Iraq, Kyrgyzstan, Lebanon, Moldova, Montenegro, Morocco, Myanmar, Namibia, North Macedonia, Pakistan, Palestine, Russia, Singapore, South Korea, Sudan, Syria, Tajikistan, Tunisia, Turkey, Turkmenistan, Ukraine, Uzbekistan, Yemen