The University of Lincoln is home to a growing community of students from around the world and we are delighted that you are considering joining us.
Since Her Majesty the Queen opened the first University of Lincoln building on the Brayford Pool Campus, we have welcomed more than 90,000 students from across 135 countries. Today, we are listed in the world's top 150 universities in the Times Higher Education's (THE) Young University Rankings 2020 and were also named as the Modern University of the Year in The Times and Sunday Times Good University Guide 2021.
At the University of Lincoln, we put students at the heart of everything we do. We have a reputation for innovative teaching and were awarded a five-star score overall in the QS Stars rating in 2020 and were awarded Gold, the highest standard possible, in the national Teaching Excellence Framework (TEF) 2017.
A Great Location
As a student at the University of Lincoln, you will be living in one of Europe's great historic cities,
with a history dating back as far as 300BC. Alongside remains from Lincoln's Roman heritage, the city is also home to a number of historical buildings and landmarks, including Lincoln Cathedral which was built in 1072 and was once the tallest building in the world. The city is also home to Lincoln Castle which has watched over the city's skyline for almost 1,000 years.
Lincoln is a fantastic place to live, study and work and was named as one of Britain's 20 Best Cities in 2017 by The Telegraph. In 2016, Lincoln was also named as the friendliest place in the UK by the Eden Project's Big Lunch programme and those who live here. More recently, Lincoln was named as one of the most affordable student cities in the UK, according to The Times Good University Guide 2020.
You may not think you know the county of Lincolnshire, but our residents have helped shape history beyond its borders. As an example, renowned physicist and mathematician Sir Isaac Newton was born in the Lincolnshire village of Woolsthorpe-by-Colsterworth in 1642. Lincolnshire was also the birthplace of the UK's first female Prime Minister, Margaret Thatcher, and the home of poet Alfred Tennyson.
With more than 2,000 years of history, the city of Lincoln has been used as a filming location in a number of period television series and films including Downton Abbey, The Da Vinci Code and The King.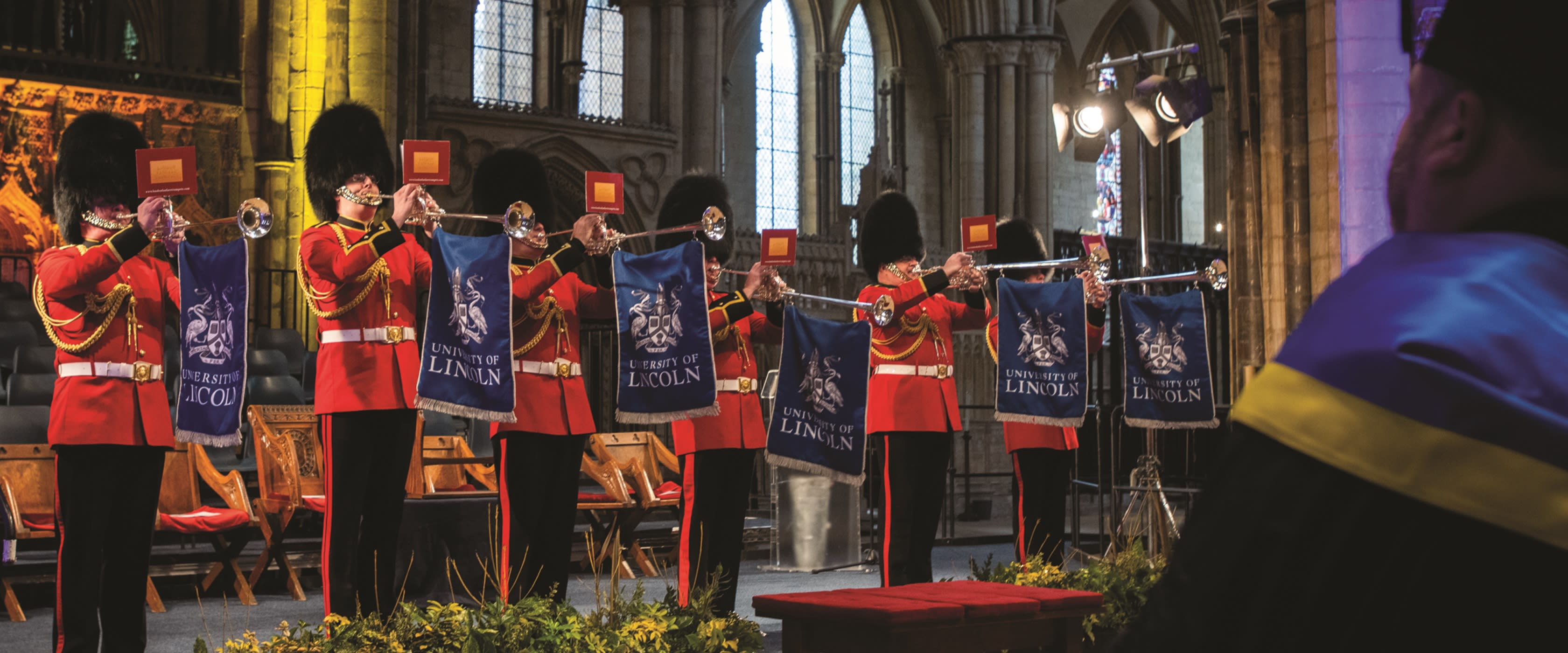 Preparing you for your future career
Employers are increasingly looking for individuals who can make a difference in today's global workplace. As a student at the University of Lincoln, we aim to prepare you for your future career by providing you with a range of opportunities to engage with industry and to develop career-ready skills. The University is proud to have developed innovative partnerships with a range of organisations, providing students with enhanced opportunities for work experience, networking, and access to the latest industry trends.
One of the best ways for you to show an employer that you are the right person for the job is to have a CV containing real-world experience alongside your academic achievements. At the University of Lincoln, we offer a range of opportunities to help you develop the skills and qualities employers are increasingly looking for. As an example, a number of our undergraduate and postgraduate taught programmes provide the opportunity to apply to take part in an industry work placement or project. There may also be opportunities to hear from guest speakers and to participate in field trips to help you broaden your knowledge. To find out more, please visit the programme pages on our website.
Our courses have gained international recognition with Agriculture at Lincoln ranked in the top 250 in the world in the QS World University Rankings 2020, while Computer Science and Education are ranked in the top 250 in the world in the Times Higher Education (THE) World University Rankings 2021.
We want students to get involved in initiatives such as our Student Managed Investment Fund, and enjoy the benefits of our links to companies such as Siemens and Reuters. We have Bloomberg Terminals on campus, enabling business students and staff to monitor and analyse real-time financial market data, alongside laboratories, lecture theatres and seminar rooms
A Great Student Experience
Our Students' Union (SU) can help to make your time at Lincoln a truly unforgettable experience.
Run by student leaders, the SU offers a range of opportunities and support for members of our student community whilst representing your academic interests.
Joining a club or society can be a great way to make new friends, creating bonds that can last a lifetime. The SU traditionally offers more than 100 different sports clubs and societies that anyone can join. They range from academic groups like the Computer Science and Law Societies to less traditional clubs such as the Harry Potter and Pokemon Go Societies.
Alongside it's fascinating history and countryside, the county of Lincolnshire is renowned for regional food such as the Lincolnshire sausage, and there is lots to see and do, with countryside walks in the Lincolnshire Wolds and trips to the British seaside at Cleethorpes and Skegness nearby.
"This information was correct at the time of publishing (July 2023)"