LLB in
Degree in law
University of Oviedo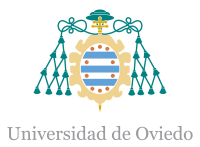 Introduction
Admission profile
Baccalaureate with the University entrance exam passed.
Higher education training cycle.
Access Test for people over 25, 40 or 45 years old.
University degree.
It is advisable that the student shows interest and respect for the laws and social customs, adaptability and flexibility, negotiating spirit and persuasive character, adequate verbal communication, critical and reflective spirit, analytical and intuitive capacity, good memory and concentration.
Professional outings
Graduates can develop their work in the following areas: liberal professions (lawyer, attorney, advisor and other collegiate professions), business and banking (human resources, administration, legal and labor consultancy), jurisdictional function of the State, State Administration, autonomic and local, European Union and international organizations.
Professional profiles:
Freelance professional.
Advisory.
Company (public and private).
Public administration.
Teaching and / or research.
Academic outings
The Degree in Law allows access to the University Master's Degree in Law that enables the exercise of the profession of Lawyer and Attorney.