If you think that international study is only for language students, think again! One of the primary goals of the academic organizations of the European Union (EU) is to increase student mobility. To facilitate mobility, many institutions are adding or expanding their English-taught programs (ETPs). ETPs are one of the primary tools that European universities use to promote international education. A recent study has shown that the number of ETPs in non-English-speaking European countries has increased from 725 in 2001 to more than 8,000 in 2014. That means that ETPs have more than tripled in the last decade!
Rising numbers of ETPs are good for both universities and students. Increased numbers of ETPs help promote individual institutions and improve research collaboration. The boost also bolsters international student and English services at universities across Europe. Students and programs report that ETPs help to promote English-language acquisition, provid networking opportunities, and give students the experience necessary for the increasingly international job-market.
The European higher education sector is a smorgasbord of ETPs for students wishing to study abroad. But which is the best country to study in English?
Germany
,
France
, and
Poland
 offer the most ETPs, but by sheer percentages Scandinavian countries are the most prolific. Nearly 40% of
Denmark
's higher education program are offered in English, and 60% of all Nordic institutions offer ETPs. Eastern and Southern Europe trail behind the north and west, with a combined total of less than half the number of ETPs of the Nordic region.
While many European institutions are adopting ETPs, some are still hesitant. English-language proficiency among staff and students is one of the greatest obstacles for ETPs, as is the competence of foreign students in the country's native language.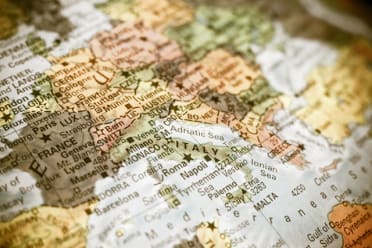 Some institutions argue that ETPs are not appropriate or unnecessary for the subjects offered; for example, in music programs, where language is secondary, or in domestic law, where language-specific vocabulary is required. And, although the number of ETPs is increasing in the EU, enrollment is still relatively low. Only 1.3% of students at European institutions enroll in ETPs.
Officials and institutions would like to see increased enrollment, but the lower number of students in ETPs make them a great choice for those who wish to study in a foreign country. Class sizes in ETPs are often smaller than those in domestic-language programs, which gives students more contact with instructors. The small class sizes and diverse student population make choosing an ETP an attractive choice for many students.
You can read more about studying in Europe.