St. Pölten University of Applied Sciences
Home ›
Austria ›
St. Pölten University of Applied Sciences
Read more on the institution's website
The St. Pölten UAS LLC is locally anchored, globally-connected and stands for future-oriented academic education in the subject areas of
Media & Economics
Media & Digital Technologies
Computer Science & Security
Rail Technology & Mobility
Health Sciences
Social Sciences
With more than 3,400 students, the St. Pölten University of Applied Sciences is a key player in the Austrian higher education sector and one of the most important employers in the region. Our university distinguishes itself through its a future-oriented and steadily growing number of study programs, strong interdisciplinary collaboration and its research focus.
Reasons to study at UAS St. Pölten
St. Pölten UAS has a respected reputation and is recognized internationally for high-quality and innovative teaching in all its disciplines.
The attractive study programs put an emphasis on international aspects. The teaching staff are proven experts in their specialist fields and competently convey their knowledge with innovative, modern methods and interesting projects.
The integration of research findings into practice-led teaching and the acquisition of interdisciplinary skills places a St. Pölten UAS education in great demand in the economic sphere.
St. Pölten UAS has a strong presence in business and the public sector and makes an outstanding contribution to society's ongoing development.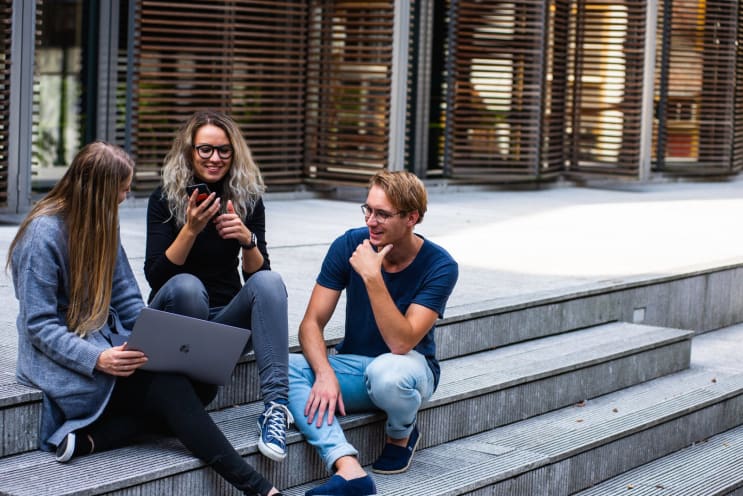 Buro Millennial / Pexels
Mission Statement
St. Pölten University of Applied Sciences is committed to excellence and aspires to this objective through continuous development of its quality as an institution and in all aspects of its work:
through a culture of mutual respect between staff members, students and partners as well as a dedication to equal opportunity, gender equality and team diversity,
through an obligation to transparency and fairness in all decisions, leadership competence at all levels and responsibility in all organizational structures,
through recognized know-how and creative innovation in all fields of work, whereby the image of the city and region as an attractive place to study and work is enhanced,
while offering students excellent training and further education that prepares them for the growing demand for innovative, interdisciplinary solutions to a multitude of current and future challenges facing entrepreneurs, industry, public authorities, and institutions,
as an open and internationally-oriented partner for companies, industry sectors, institutions and their need for applied research and development and
through active participation in the social and cultural life of the city and region, thus contributing to a dialogue between all societal groups.
Our vision
St. Pölten University of Applied Sciences is a professional, cosmopolitan, internationally-positioned and research-oriented institution that ranks among the best and most attractive universities in Austria and is a subject leader in selected focus areas. St. Pölten UAS has strong roots in the city and wider region, and thanks to its expertise the university is a strong partner with close ties to the economy and related institutions.
Locations
Saint Pölten
Address
St. Pölten University of Applied Sciences
Matthias Corvinus-Straße 15
Saint Pölten
,
Lower Austria
,
Austria
Programs
This school also offers: