The University of Lausanne is a higher teaching and research institution composed of seven faculties where approximately 14,300 students and 3,000 researchers work and study.
UNIL is focused on several academic disciplines, especially Medicine, Life Sciences, Geosciences, Environment, Business, Humanities and Social Sciences.
An emphasis is placed on an interdisciplinary approach, with close cooperation between students, teaching staff, and professors.
The UNIL represents:
An international atmosphere. One-fifth of the student population and one third of the teaching staff come from abroad.
Up-to-date facilities and technology. State-of-the-art laboratories for researchers: spacious, well-equipped lecture halls for teaching staff and students.
Three faculties unique in their kind in Switzerland. Law, Criminal Justice and Public Administration; Biology and Medicine (FBM); Geosciences and Environment (GSE). New innovations require new synergies.
Close collaboration with the University Hospital of the Canton of Vaud (CHUV) in order to remain at the forefront of advances in medical knowledge.
The University and Cantonal Library - Lausanne (BCUL), with its two million documents, modern research tools and an ideal working environment overlooking Lake Geneva.
A philosophy and work ethic expressed in a Charter of Values and precepts.
An exceptionally green and spacious lakeside setting. In just a few minutes an excellent public transport network links the university campus to Lausanne, the capital of Vaud, noted for its varied cultural activities.
A wide range of continuing education and interdisciplinary courses, as well as countless sporting and cultural activities in fields as varied as: language and IT courses, football (soccer), capoeira, fitness or underwater diving at the Sports Centre; societies, cinema, exhibitions or theatre at the Grange de Dorigny.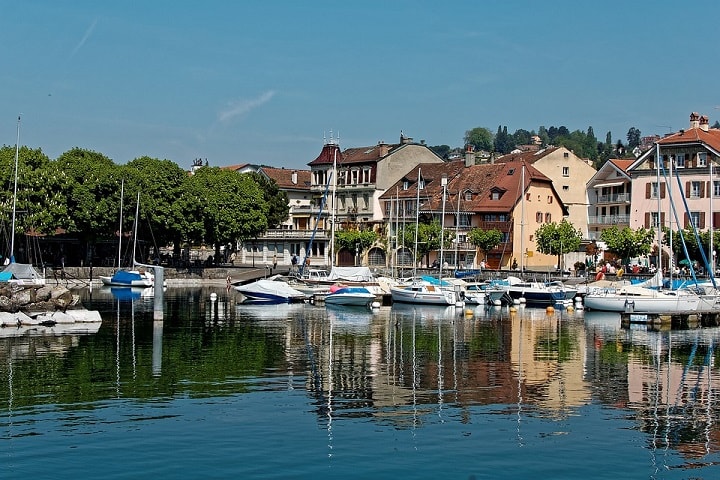 The University of Lausanne (UNIL) consists of seven faculties:
Faculty of Theology and Sciences of Religions;
Faculty of Arts and School of French as a Foreign Language;
Faculty of Social and Political Sciences;
Faculty of Business and Economics;
Faculty of Law, Criminal Justice and Public Administration;
Faculty of Biology and Medicine;
Faculty of Geosciences and Environment.
With 14,475 students in 2016, the University of Lausanne also benefits from synergies with the EPFL campus situated just next to its own. In 2016, 467 Full and Associate Professors and 78 Assistant Professors were teaching at UNIL, helped in their daily tasks by 1,235 assistants and 470 other teachers. To ensure the smooth running of the entity, the teaching staff was supported by 1,033 persons working as administrative and technical personnel as well as 48 trainees.
Ranked as number fifth in Europe in terms of importance of publications, research is a key topic for the University of Lausanne.
Locations
Lausanne
Faculty of Business and Economics
Address
CH-1015 Lausanne
Lausanne
,
Vaud
,
Switzerland
Accreditations