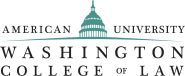 American University Washington College of Law
Home ›
USA ›
American University Washington College of Law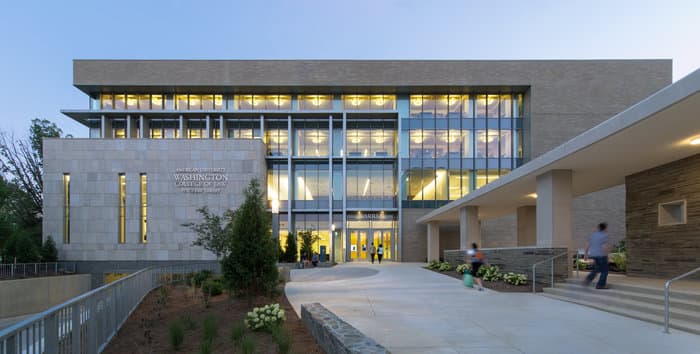 Opportunity. Community. Innovation.
Designed for international and domestic law graduates, our LL.M. programs feature flexible curricula that incorporate a rich array of specialized law courses and seminars and experiential learning opportunities. As a student, you will be supported by a law school community that is uniquely collaborative, including faculty who are passionate about education and a global network of LL.M. alumni. The LL.M. programs at AUWCL incorporate a rich array of courses, experiential learning opportunities, and special events that offer valuable opportunities for students to interact with leading lawyers, policymakers, business leaders, and diplomats. We invite you to discover what a degree from AUWCL can do for you.
International students in the in-residence LL.M. Programs at AUWCL can qualify for NY Bar Examination. Most of these students take American Legal Institutions, Legal Research and Writing, Legal Ethics, and two courses in the basics of the US system.
How to Apply
LL.M. Eligibility Requirements
In order to be eligible for an LL.M., applicants must:
·Hold a Juris Doctor (JD) from a US law school accredited by the American Bar Association (ABA) or the first degree in law from a foreign law school with equivalent standards.
·Submit a completed application form along with supporting documents before the application deadline
·International applicants must meet the English Language Proficiency Requirement
·Applicants to the LL.M. in International Human Rights & Humanitarian Law will be expected to have two years of prior experience in the legal profession.
LL.M. Scholarship Opportunities
Need and Merit-Based Scholarships: All five LL.M. programs offer scholarships. These partial tuition grants are available for a limited number of LL.M. students. Scholarship applications should be submitted with your LL.M. application. Scholarships are awarded based on academic merit and financial need. For more information on scholarships, please check our scholarship website.

ILSP Alumni Fund: The LL.M. in International Legal Studies offers six full-tuition scholarships. The Alumni Fund Scholarships are awarded to newly admitted students who display rigorous academic dedication to the advancement of issues in international law. Scholarship applications must be submitted with a completed LLM application. Incomplete applications will not be considered. The deadline to apply is March 1 for the fall award and October 1 for the spring award. Visit the Alumni Fund Scholarship page for detailed rules and application information on how to apply.

LL.M. Fellowships in Law & Government, Advocacy, and Intellectual Property: These fellowships are designed for exceptional students passionately committed to their field of specialization. Successful applicants will have an exemplary academic background and a demonstrated potential to excel in the LL.M. program. The fellow will enroll in the 24-credit LL.M. program and will receive a number of benefits, including a partial scholarship. Additional information: Law and Government LL.M. Fellowship, Advocacy LL.M. Fellowship, and Information Justice Fellowship.

Summer Program Scholarships: Applicants who have participated in a summer program at our law school may be eligible for specific scholarships.
Deadlines & Application Instructions
Due to visa requirements, the LL.M. Programs have an earlier application deadline for all international applicants who need to request a visa.
Fall Admission Deadlines
·International students May 1
·U.S. Citizen/Permanent Resident Students July 1*
Deadlines for Spring Admission
·International Students October 1
·U.S. Citizen/Permanent Resident Students November 1*
·Hybrid LL.M. December 1
*Under certain circumstances, the program can extend the application deadline for U.S. citizens and Permanent Residents. Please contact the Office of Graduate Admissions directly to see if you qualify for this exception. Due to visa processing times, any applicant, requiring a visa must adhere to the posted deadlines.
·Official Copies of Academic Records
Applicants must submit official transcripts or notarized full-sized copies of all law, graduate, and undergraduate schools attended, including a record of all courses, examinations, and marks.
"Official" means a copy of the original document certified by an officer of your school or by a notary public. Faxed copies and photocopies of academic records will not be accepted. Transcripts must be written in the native language of the school. If this language is not English, the documents must be accompanied by a certified translation. Institutions must send the required documents directly to the Office of Graduate Admissions.
International applicants applying online through LSAC have the option of submitting transcripts through LSAC's Document Assembly Service. This service is included in LSAC's registration fee for using the online services. Additionally, international applicants using the LSAC system can choose (not required) to register for LSAC's International Transcript Authentication and Evaluation Service for an additional fee. By using this system, LSAC will authenticate and evaluate international academic records.
Although not required, the LL.M. Programs also accept transcripts and certified copies of academic documents from EducationUSA and WES. The applicant should contact WES directly to arrange submission. Find more information about EducationUSA and WES online.
·2 Letters of Recommendation
Applicants must submit at least two letters of recommendation from law professors, employers, or others familiar with the applicant's academic and professional qualifications. Personal references will not be accepted. The applicant should familiarize references with the LL.M. Program and have each reference specifically address the applicant's aptitude for undertaking graduate legal study. The applicant should also explain that the admissions committee gives considerable weight to the letters. The recommendation letters may either be sent in sealed and signed envelopes along with the application or sent directly to the Office of Graduate Admissions.
·Personal Statement
Applicants must submit a 1-2 page single-spaced essay that addresses the following:
·Why you wish to pursue an LL.M. at American University Washington College of Law.
·How you think the LL.M. will help you achieve your short-term and long-term professional and personal goals.
·What employment and other experiences you believe are particularly relevant to your application.
·$55.00 Application Fee
Each application for admission must be accompanied by a $55 application fee which can be paid online through the online application form. The application fee is non-refundable. If necessary, a check or U.S. money order payable to "Washington College of Law" may be sent to the program by mail. All checks must be drawn on a bank that has a branch in the United States. Thomas Cook and Barclay's traveler's checks are also acceptable forms of payment. Cash cannot be accepted.
·Official Proof of Competency in English
Regardless of citizenship, applicants whose first language is not English must take a TOEFL, IELTS, PTE, or Kansas exam and meet the minimum scores indicated below.
Exceptions to this policy will be granted to applicants who:
·A. Hold a first degree in law from an institution where English is the language of instruction and an official language of the country in which the university is located, is English, (see complete list of countries eligible for exception) or
·B. Hold a bachelor's, master's, or doctoral degree from an institution that is accredited by a U.S. regional accrediting agency (Please check the website for a complete list of countries).
English language test scores may not be more than two years old. Please visit the sites below to arrange a test date or to request scores to be sent to American University.
·Test of English as a Foreign Language (TOEFL) The institution code for American University Washington College of Law is 8188 and the department code is 03.
·International English Language Testing System (IELTS)
·Pearsons Test of English (PTE)
English Language Minimum Scores
To be considered for admission, the minimum required scores are as follows:
·TOEFL 84 ibt or 563 paper based
·IELTS 6.5
·PTE Academic 56
·Kansas 70 or higher on each subsection; 350 or higher on the total score
Please note: The scores above are the minimum scores for admissions consideration. Meeting the minimum score requirement does not guarantee admission to the program. If you do not meet the minimum requirement, please contact the Office of Graduate Admissions regarding English Language Programs available through American University.
Locations
Washington
Address
4300 Nebraska Ave NW
Washington DC 20016
Washington
,
District of Columbia
,
USA